Pistol caliber carbines have always intrigued me. Making one in an AR-platform rifle that uses Glock magazines really gets my attention.
Dark Storm Industries is making a 9mm carbine called the DS-9. Built on a dedicated Glock lower, the recently introduced rifle offers a number of solid features. One of the new guns made its way into my hands for testing, and I was impressed by it.
I put the rifle through its paces, shooting several hundred rounds with a specific emphasis on self-defense loads. I also tested different Glock magazines for reliability in this gun. The end result was I found a rifle that performed very well and might make a lot of sense for some of my readers.
Notice Title
– 100% reliable with 16 different factory loads
– 5-shot, sub 1″ groups with defensive loads
– uses Glock 9mm magazines in a dedicated lower
– very low recoil
– priced reasonably compared to the existing market
Gun Overview
The DS-9 is a 9mm rifle that follows the same basic form and function of a typical AR-pattern gun. It has a charging handle, bolt release, magazine release and safety selector all in the usual spots, and it separates upper and lower receivers in the same way. The safety is ambidextrous.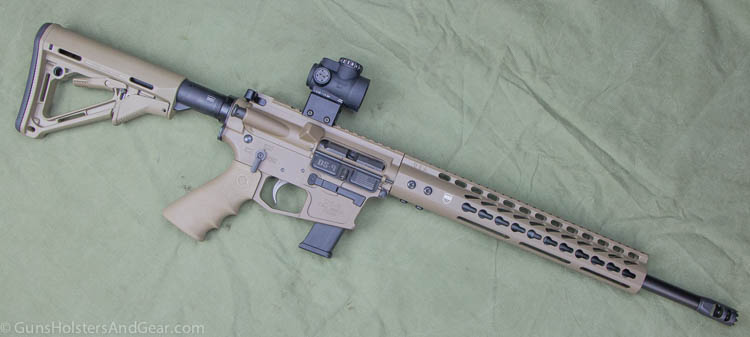 As I've previously indicated, the DS-9 is fed by Glock pistol magazines. It ships with a factory Glock 17-round magazine and will accept any of the double stack 9mm mags that the company makes. Don't shove a Glock 43 magazine into the well and expect it to work.
I did not have any of the new Magpul magazines on hand at the time of this review, but they should be 100% compatible with this carbine since Magpul takes manufacturing tolerances very seriously.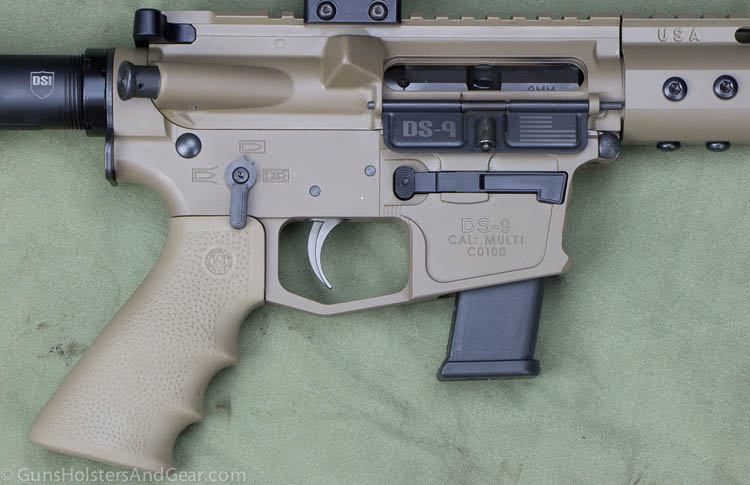 The lower receiver is built specifically for the Glock magazine. Some companies use a standard AR lower and a block to accept 9mm magazines (typically Colt pattern.) However, Dark Storm Industries is using a Glock dedicated lower to reduce the potential for problems with long term use.
Dark Storm Industries uses a 16″ M4-profile barrel on the DS-9. The barrel has a 1:10″ twist and has a CQB compensator on the end. The comp has a series of teeth on the end that could be useful in an extreme situation to break glass or get someone off of you.
The ends of the teeth are very thin. I take very good care of my rifles, but even so, several of the teeth showed slight bending at the very end of the tips. I would prefer not to have any teeth on the end of the compensator, but that is a personal preference.
The hand guard is a 12″ KeyMod rail that is made of 6061 aluminum. It uses a proprietary barrel nut and is free-floated. With the barrel nut, this handguard weighs about 13 ounces.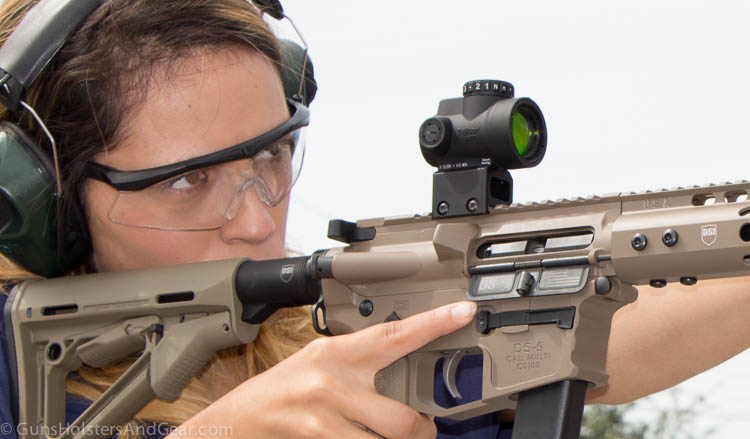 No sights ship with the DS-9. Ample Picatinny rail space on top of the receiver and hand guard allows for the addition of irons or glass. For my review, I added one of the new Trijicon MRO sights that I have on loan for evaluation. It mounted easily and was rock solid throughout the testing.
My DS-9 was equipped with a crisp, single-stage trigger. There was no perceptible movement prior to the break, and only the slightest amount of overtravel. I really liked the feed of the trigger on this gun.
A Hogue pistol grip is used by DSI on this rifle. In general, I like this pistol grip due to its soft, grippy surface. However, I don't like the molded finger grooves on it. My hands don't fit neatly into the grooves, so it feels a bit weird to me. Your experiences and preferences may be different.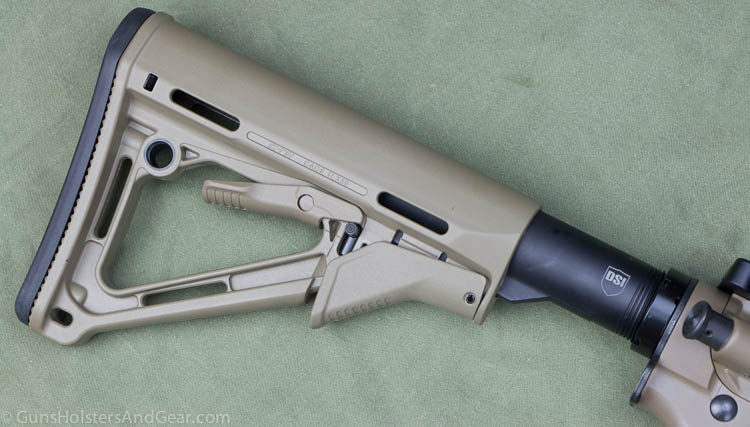 DSI selected the Magpul CTR stock for the DS-9. This is one of my preferred stocks on an AR, and I've got one on one of my personally owned AR-15 rifles.
The company used one of its Spec Ops Tactical charging handles on this weapon. An oversized latch is on the left side of the unit that allows for easy manipulation of the handle with or without gloves.
A nice add-on is the inclusion of an ambidextrous single point sling attachment. This plate is installed between the castle nut and receiver.
Why a 9mm Rifle?
Some readers may question the usefulness of a carbine chambered for the 9mm cartridge. Frequently, the longer barrel of a rifle can increase the velocity of a handgun cartridge when compared to the same round shot from a 4″ or shorter handgun barrel. Often, the increased velocity is cited for improved bullet performance in a self-defense context.
A 9mm rifle will typically have a lot less muzzle blast and kick to contend with. While many readers of this site are experienced shooters, there are many people who want a rifle that has less muzzle blast than even a .223 Rem gives. A 9mm provides more power than a .22 LR, but at substantially less recoil than a typical rifle caliber.

Another attraction for many people to a pistol caliber carbine is compatibility in both ammunition and magazines. For a small collector or even a minimalist prepper, having only one kind of ammo and magazine to purchase may be ideal.
That isn't to say that a 9mm rifle doesn't have its weaknesses. Quite the contrary. Typical rifle calibers, such as the .223, .270 and .308, all offer more power and longer ranges than a 9mm can deliver. But for the niche that the 9mm carbine fits in, it is a worthy consideration.
Specifications
| | |
| --- | --- |
| Caliber | 9mm |
| Capacity | 17+1 |
| Barrel Length | 16″ |
| Weight (unloaded) | 6 lbs, 4 oz |
| Sights | none |
| Finish | Cerakote FDE |
| MSRP (as tested) | $1,295 |
At the Range
In the past, I've shot a number of 9mm AR pistols and rifles that have performed well. So, I took the DS-9 to the range with fairly high expectations in both reliability and accuracy. It delivered.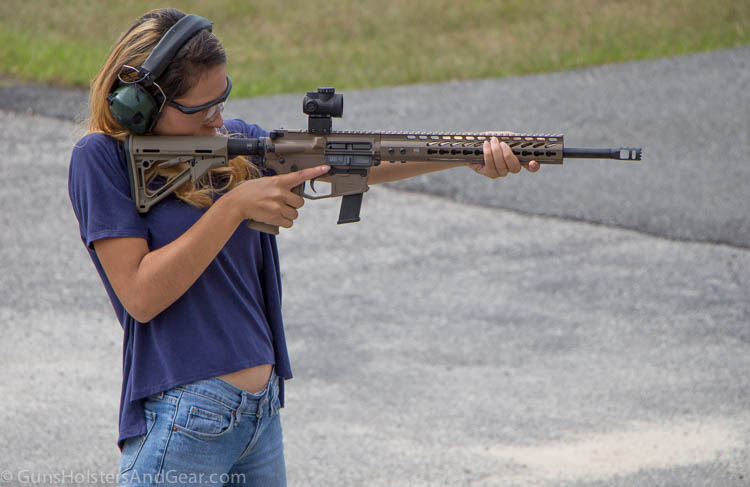 Recoil and muzzle rise are ridiculously light. Shooting a 9mm cartridge in a 1.5 pound handgun is a fairly docile proposition for most people. Drop the same cartridge in a 6+ pound gun, and it becomes a very tame beast indeed. The compensator likely helps reduce the recoil even more.
As I mentioned above, I installed a Trijicon MRO with a 2.0 dot on the rifle. Since I already had a high riser attached to the MRO, I left it on and sighted it in at 25 yards.
With the installed MRO, I was easily able to keep 5-shot groups to under an inch at 25 yards. That may not sound spectacular, but keep in mind that this is a handgun cartridge – not a rifle round – and that I was shooting these completely unsupported.
I ran 16 different factory loads through the gun to check for reliability and to measure velocity. With all kinds of ammunition, the gun was completely reliable. Some of the loads fell outside of the typical 9mm weight range of 115 – 147 grains. For example, the Team Never Quit was a 100-grain frangible and the Liberty Ammunition Civil Defense round used a 50-grain hollow point. These fed and shot without a hitch.
Ammunition Performance
| | | |
| --- | --- | --- |
| | Velocity | Energy |
| Aguila 124 gr FMJ | 1220 fps | 410 ft-lbs |
| Blazer Brass 115 gr FMJ | 1321 fps | 446 ft-lbs |
| Federal BPLE 115 gr JHP +P+ | 1481 fps | 560 ft-lbs |
| Federal Champion 115 gr FMJ | 1323 fps | 447 ft-lbs |
| Hornady Critical Duty 135 gr FlexLock +P | 1260 fps | 497 ft-lbs |
| HPR Ammunition 115 gr JHP | 1280 fps | 418 ft-lbs |
| HPR Ammunition 124 gr JHP | 1085 fps | 324 ft-lbs |
| Liberty Ammunition 50 gr JHP | 2563 fps | 729 ft-lbs |
| Perfecta 115 gr FMJ | 1332 fps | 453 ft-lbs |
| Remington UMC 115 gr JHP | 1315 fps | 441 ft-lbs |
| Remington UMC 115 gr MC | 1255 fps | 402 ft-lbs |
| Team Never Quit 100 gr Frangible | 1578 fps | 553 ft-lbs |
| Winchester PDX-1 Defender 124 gr +P | 1356 fps | 506 ft-lbs |
| Winchester Train & Defend 147 gr FMJ | 1054 fps | 363 ft-lbs |
| Winchester Train & Defend 147 gr JHP | 1077 fps | 379 ft-lbs |
| Winchester White Box 115 gr JHP | 1288 fps | 405 ft-lbs |
Performance measured with a Competition Electronics ProChrono Digital Chronograph at an approximate distance of 15′ from the muzzle of the pistol. All measurements are an average of five shots.
As I've seen in prior reviews, the Liberty Ammunition load is impressive out of a longer barrel. With the 16″ barrel of the DS-9, that load averaged 2,563 fps. As a comparison, I typically will measure 55 gr .223 Rem rounds between 2,800 – 2,950 fps from a 16″ barrel.
I am not about to suggest that a 9mm round will behave the same as a .223 round, but it is worth consideration as a self-defense load in a carbine. At more than 2,500 fps, the Liberty 9mm round is moving at true rifle round velocities but with a mere fraction of the recoil and report. In the closed confines of a home, that could make a huge difference – especially if you are not running a suppressor.
Also impressive was the more conventional Winchester PDX1 Defender load. This 124 grain hollow point is a bonded bullet meaning it is designed to expand but retain its full (or nearly full) weight throughout its journey – even if it encounters auto glass or other hard barriers.
The Winchester PDX1 also had the best group of the day: 5 shots into ½".
During shooting, I added Bravo Company rail panels to the forward end of the hand guard. These panels are very thin, textured polymer that snap very securely into the KeyMod attachment points. I like the thinness of KeyMod hand guards, and these panels improved the support hand grip on the gun without adding bulk. I strongly recommend these for any rifle equipped with a KeyMod hand guard.
After about 300 rounds, I closely examined all parts of the rifle. Nearly everything appeared to function as it had prior to shooting. The sole exception was the buffer tube.
The buffer tube assembly had loosened to the point of noticeable wiggle. The castle nut did not appear to be loose, but the entire assembly, including the sling mount plate, would move left and right about 1/8″. This may be a minor thing to some people, but it is worth noting.
I tried the gun with G17, G18 and G19 magazines. All of the mags fed fine and dropped free.
Final Thoughts
I like the DS-9 quite a bit. It is an easy shooting carbine that is light and easy to accessorize if needed. With all kinds of ammunition it proved to be both reliable and accurate.
My only concern with the gun was that the stock assembly did loosen somewhat during use. I don't see this as a major problem, but a concern that I would have to address if I was purchasing this rifle.
The suggested retail price of $1,295 is reasonable when compared to similar guns on the market. At the time of this writing, 9mm rifles from Stag, Rock River Arms and CMMG are slightly cheaper (about $100-150 less) but those guns use Colt-type magazines. JP Enterprises and Angstadt Arms both use Glock dedicated receivers for about $200 more than the DS-9. Of course, features on each gun vary and do affect the pricing.
If you are looking for a 9mm carbine, especially one that will take Glock magazines, consider the DS-9. The Glock 19 is my favorite self-defense pistol, and my wife feels the same about her G19. Having magazine compatibility between the pistol and rifle could make sense for us. Based on the one I had for review, I would feel comfortable ordering one for my own collection.
Last Updated: October 9, 2022
Disclosure
Like traditional magazines, there are some gun websites that haven't met a gun they've never liked. This is not one of those websites. While I have cordial relationships with most manufacturers, a few of them won't talk to me because I choose to tell the truth about the products I review.
It is my goal to provide balanced reviews for the intelligent shooter. I'm not hear to do any puff pieces, nor am I here to burn any gun makers. For you, the reader, it is important for me to describe any biases that may have influenced my review of this rifle.
First, this gun was loaned to me by Dark Storm Industries for the express purpose of review. No promises were made to do a positive review of the gun, nor were any solicited.
Second, DSI is not an advertiser, nor am I in any talks with them to be one. In fact, at the time of this writing, no gun manufacturer has any advertisements on this site – nor would I accept any.
Third, DSI also provided me with a DS-15 in 5.56 NATO for review. I reviewed that gun for AR Rifleman magazine and will publish a more in-depth review of it on this site as well.
Fourth, I have no financial interest in DSI or any of the products mentioned on this page or elsewhere on the site.
Lastly, GunsHolstersAndGear.com is a for-profit website. I do not charge readers a dime to access the information I provide.
Some of the links on this page and site are affiliate links to companies like Amazon and Palmetto State Armory. These links take you to the products mentioned in the article. Should you decide to purchase something from one of those companies, I make a small commission.
The links do not change your purchase price. I do not get to see what any individual purchases.