There are some guns you immediately like when you see them.  The Bersa BP9CC was like that for me.  When I first read the press release about them before the 2012 SHOT Show, I thought "There is the pistol Glock refuses to make."
The BP9CC is a polymer gun, Bersa's first in fact, with a single stack magazine.  At less than an inch thick, it can tuck into an inside-the-waistband holster without adding much bulk.  Yet, the gun offers a nearly full-size grip so your pinky isn't hanging in space.
The gun is only available in 9mm, which for me is fine.  All of my preferred concealed carry guns are in 9mm and with 8+1 rounds before a reload, you've got ample firepower for most situations.  I try to carry a second magazine, so 17 rounds should be enough to get me home in all but the worst of scenes.
At the 2012 show, I was able to talk to an Eagle Imports representative about the gun.  Eagle Imports is the US importer of the entire Bersa catalog of firearms, which are made in Argentina.  More importantly, I was able to hold a BP9CC.  Ever pick up a gun and it just felt "right" in your hand?  That's the way this Bersa felt.
Toward the end of 2012, I was able to get a Bersa BP9CC for review.  I've had it out on the range, and I've been very pleased with it.  More on that in a little bit.  First, lets go over the…
Specs
As I've mentioned, the Bersa BP9CC is a polymer-framed pistol.  Many gun companies have been making plastic framed guns for a while, but this is the first that Bersa has made.  I guess they wanted to get it right.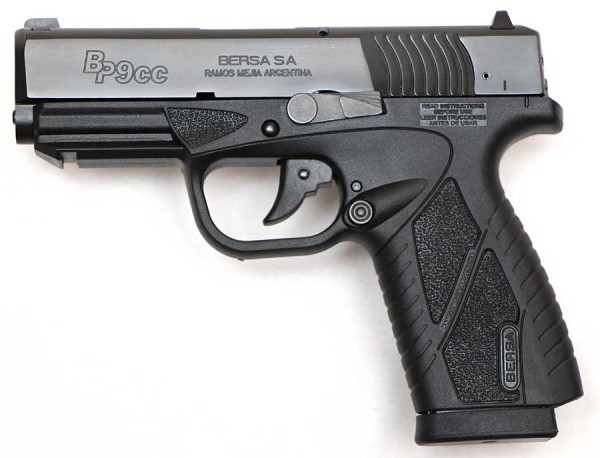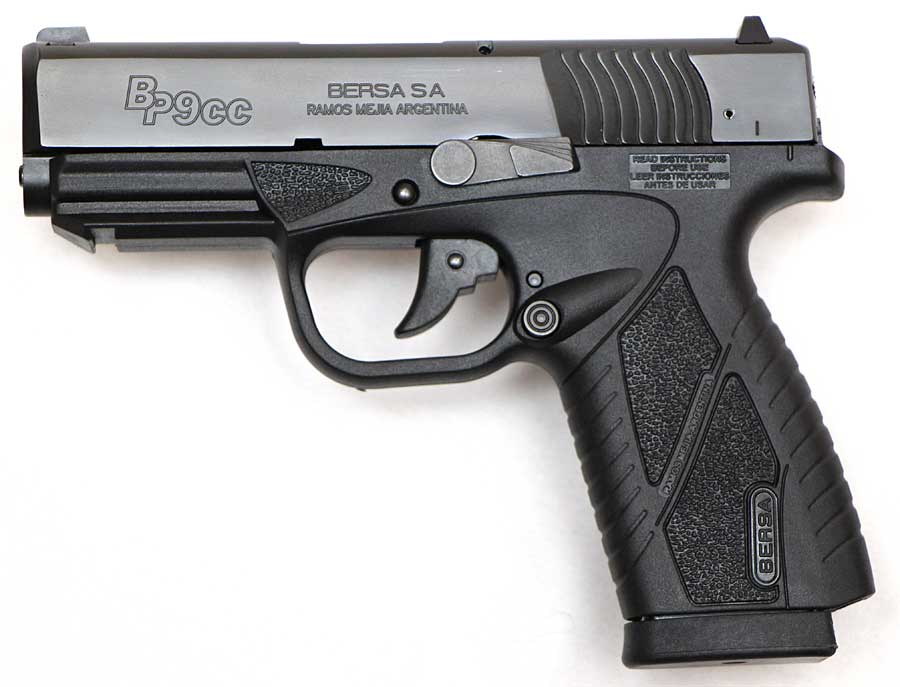 The frames on these pistols can be had in one of two colors:  black or OD green.  The purists will like the black frame, while some of the more tactical or "I want to be different" crowds might veer toward the OD frame.  While I am a bit traditional, I still really like the look of the green gun.
The slide on the BP9CC is made of steel and has either a matte black or a matte nickel finish.  The sample gun I received was a black frame with a matte black slide.
My gun shipped with two eight-round magazines.  The mags are single stack and loaded easily.  With some magazines, you might struggle a little to get the last couple of rounds in.  Not with the Bersa mags.  From the first to the last, the spring pressure seemed constant.
The pistol ships in a simple, black gun box.  The box is plastic and is designed to be used to store and transport the pistol.  Included with the gun was an assortment of paperwork and a key for rendering the pistol inoperative through an internal lock.
The Bersa BP9CC sights are a non-typical three dot set up.  The front sight has a single large, white dot.  The rear sights have two dots, but they are noticeably smaller than the dot on the front sight.
When looking at the pistol, I immediately observed the larger dot on the front sight, and thought "Finally.  Somebody gets it."
Under stress, a variety of physical and chemical changes take place in the human body and eyesight is greatly affected.  To use a front sight in combat, it needs to be easily seen.  While a bright, non-natural color like neon orange or green might be better, the white dot's larger size, as compared to the rear sights, reduces visual confusion and increases the likelihood of the shooter being able to use that front sight to put rounds on target.
The rear sight has a flat-front.  Some people prefer a sloped front so it is less likely to catch on anything.  I prefer a rear sight with a sharp front edge so that I can chamber a round or clear a malfunction with only one hand.
Many people will groan at this:  the BP9CC has a trigger disconnect safety.  That means if the magazine is out of the gun, the pistol will not fire even if a round is in the chamber.  I've got mixed feelings on the trigger disconnect safety, and see how it can be a benefit to uniformed police officers who have to deal with disarming attempts.  But on a concealed carry pistol, I could do without it.
A nice "extra" is the gun comes with a lifetime service contract.
Bersa BP9CC Specifications
caliber:  9mm
magazine capacity:  eight rounds
magazines included:  two
action:  short DAO, striker fired
barrel length:  3.3"
overall length:  6.35"
width:  0.94"
weight (unloaded):  21.5 ounces
sights:  three dot
line of sight:  five inches
MSRP:  $429
Range Time
I was eager to get the BP9CC out on the range, and finally got to two days into the new year.  I carried with me a bunch of 9mm ammunition and ultimately ran 436 rounds through the gun before I ran out of time and had to leave.  The gun performed very well, and here are my observations:
trigger – The trigger was relatively light in the full double action pull with a slight to moderate amount of take up.  The reset was very short and very easy to feel.  Follow up shots were smooth and fast, in part because of the surprisingly good trigger.
My only gripe with the trigger is that you can get a very slight pinch if your finger rides on the lower edge of the trigger face.  My finger did ride there, and I was pinched ever so slightly on multiple shots.  It was not enough to bother me, but it is something to be aware of.  People with meaty hands may have more of a problem.
sights – Much like I had anticipated, the front sight was very easy to pick up.  Follow up shots were easy to put on target because that front sight really jumped into my vision.  I enjoyed having a large white dot front sight that still used a standard post-and-notch style sighting system.
Express sights are nice for fast and close, but the traditional layout works better for me when it comes to precision shooting.  With a large front white dot, the Bersa BP9CC sights seemed to bridge the differences between three-dots and express sights.
recoil – With even the stoutest +P+ loads, the BP9CC was very easy to control.  In fact, I daresay it was the easiest to control of all of the compact 9mm pistols I have shot.  The closest is probably the Kahr CM9 with the extended seven-round magazine.
While the operating system of the gun plays a large role in the felt recoil, I think the Bersa's grip design was a huge factor in the gun being so controllable.  The frame is narrow, yet the grip filled my hand enough so that a had full control of the gun throughout the shooting process.
accuracy – Accuracy from the Bersa BP9CC was awesome.  Between five and 15 yards, I was eating out the center of the targets.  Slow fire put bullets through the same ragged hole at five yards and at 15, the gun would easily put all rounds into a three inch group with very little effort.
reliability – For the first 300 rounds (approximately), the Bersa was 100% reliable.  I started off shooting some really dirty Winchester white box stuff from Walmart that left a lot of crap in the gun.  After 100 rounds of it and another 100 of Remington UMC, the gun was thoroughly dirty and could have used a good cleaning.
Somewhere after 300 rounds, the Bersa experienced a failure to feed when a 147 grain Speer Gold Dot nose-dived on the feed ramp.  About 75 rounds later, a second failure to feed (same exact problem) happened when shooting Federal HST 124 grain +P.
It is possible that these problems were caused by the dirty gun or by weak magazine springs.  Since both of the malfunctions happened later in the shooting session, I suspect dirt, not the magazines, but I could be wrong.  And before you ask, I was not limp wristing this one.
ammunition – I shot a wide variety of ammo loads.  After 200 rounds of 115 grain ball (the aforementioned WWB and UMC), I put almost 300 more rounds of premium hollow points down range.  These rounds included:
Speer Gold Dot – 124 grain, 124 grain +P, 147 grain
Winchester PDX1 Bonded – 147 grain
Federal HST – 124 grain +P, 147 grain +P
Federal JHP – 115 grain +P+
Hornady Critical Duty – 135 grain, 135 grain +P
Remington Golden Saber – 124 grain +P
Of these, all showed good accuracy and all were controllable under rapid fire.  The load with the least recoil was the Hornady 135 grain Critical Duty (standard pressure).  On the other hand, the heaviest recoiling load was the Federal 115 grain +P+ load, with the Federal HST 124 grain +P being a close second.
Ammunition Performance
When I wrote the initial review, my chronograph was not working. Since that time, I replaced the old chronograph with a newer, more reliable one. These are the velocities I obtained from the Bersa pistol.
| | velocity | energy |
| --- | --- | --- |
| Blazer Brass 115 gr FMJ | 1056 fps | 285 ft-lbs |
| Federal BPLE 115 gr JHP +P+ | 1134 fps | 328 ft-lbs |
| Federal Champion 115 gr FMJ | 1060 fps | 287 ft-lbs |
| Hornady Critical Duty 135 gr | 961 fps | 277 ft-lbs |
| Hornady Critical Duty 135 gr +P | 1063 fps | 338 ft-lbs |
| HPR Ammunition 115 gr JHP | 1030 fps | 271 ft-lbs |
| HPR Ammunition 124 gr JHP | 935 fps | 241 ft-lbs |
| Federal HST 124 gr +P | 1102 fps | 334 ft-lbs |
| Liberty Ammunition 50 gr JHP | 1952 fps | 423 ft-lbs |
| Perfecta 115 gr FMJ | 1033 fps | 272 ft-lbs |
| Remington UMC Target 115 gr MC | 1054 fps | 284 ft-lbs |
| Remington UMC 115 gr JHP | 1068 fps | 291 ft-lbs |
| SIG SAUER Elite Performance 115 gr FMJ | 1062 fps | 288 ft-lbs |
| SIG SAUER Elite Performance V-Crown 124 gr JHP | 1004 fps | 278 ft-lbs |
| SIG SAUER Elite Performance V-Crown 147 gr JHP | 895 fps | 262-ft-lbs |
| Winchester White Box 115 gr JHP | 1039 fps | 276 ft-lbs |
Performance measured with a Competition Electronics ProChrono Digital Chronograph at an approximate distance of 15' from the muzzle of the pistol. All measurements are an average of five shots.


Final Thoughts
The Bersa BP9CC is a pistol that I really like.  It fits great in my hand, is fun to shoot and is extremely accurate.  Reliability was impeccable until more than 200 rounds were put through the gun.  Even with the two malfunctions, the reliability was still very good.
I like the gun enough to buy it.  The problem is my wife wants it, so I guess I will have to let her have it.  Before she starts to carry it, though, we're going to put a few hundred more rounds through the gun to make sure it is running right.  I do not expect any problems.
Holsters for the BP9CC are a bit sparse right now.  However, I am talking to several small holster shops and hope to report back soon with some non-generic holster options for Bersa owners. (Ed. note: There are a variety of good holster choices on the market now. Check out my list of BP9CC holsters by clicking here.)
For what its worth, the BP9CC is my first Bersa.  I was never very interested in the company's iconic Thunder line, but this polymer gun is great.  As a long-time fan of Glock, it would have been nice to see this gun developed by them, but they failed to do so.  Bersa stands ready to take advantage of Glock's failing.  At less than $400 at the local gun shop, this gun stands to be a big hit if people give it a try.
I got out to the range for some training with Paul Carlson of the Safety Solutions Academy.  We ran the Bersa while we were on the range and Paul uploaded this video to YouTube.  Check out his take on the gun:
Review Update
After the initial range time, I've had the gun out onto the range for more shooting.  I figured I would give everyone an update of how the gun is working out.
As a quick recap, I took delivery of a black BP9CC from Eagle Imports, the US importer of Bersa firearms.  The gun is a polymer framed pistol with a light, DAO trigger.  It is a single-stack 9mm pistol, which means it is thinner than many handguns of this general size.  The grip is long enough that my entire hand fits on the gun.
The first time I carried it to the range, I put more than 400 rounds through the gun.  I found recoil was light and the gun was fun to shoot.  It was also very accurate.
On that first outing, I had only two malfunctions, both of which were likely caused by firing very dirty ammunition.  But, I wanted to get more time at the range with the Bersa before I trusted my life to it.
Since the initial review, I've taken the BP9CC back to the firing line multiple times. I've shot another 450 rounds through it:  a mix of Federal American Eagle 115 gr FMJ, Remington UMC 115 gr JHP, and several premium +P and +P+ loads.  I've purposefully taken slow shots, and at other times emptied the magazine as quickly as I could pull the trigger.  Neither had any adverse affect on reliability.  While I cannot be 100% certain, I think my early thoughts about the malfunctions were correct:  the dirty ammo contributed to the two malfunctions.
A few other things that I wanted to update about the pistol…
Rear Sight – I like two things about the rear sight.  First, the front of the rear sight is a relatively flat surface, allowing me to use it to work the slide on the edge of a boot, belt or table in an emergency.
Second, it uses small white dots, which contrast nicely with the large, bright white dot on the front sight.  My eye is naturally drawn to the front sight when shooting.  In a stressful encounter, having sights like these could be an advantage.
One thing that I don't like about the rear sight is that it is plastic.  In 99.9% of situations, this is perfectly fine.  But, I would much prefer to have a metal sight on the rear.  As I mentioned above, the rear sight can be used for operating the slide in an emergency situation.  A metal sight is much more likely to survive the repeated abuse of training these methods.
Fortunately, I have a good replacement on hand for the Bersa BP9CC rear sight:  the Claw EMS Rear Sight.  The EMS, or Emergency Manipulation Sight, is a rear sight designed by Rob Pincus that specifically works with the shooter when performing a one handed reload or malfunction drill.  Instead of a flat front, which usually works fine, the Claw EMS has a small hook on the front of the sight forward.  The hook is not overly aggressive, but it is just enough to allow for more positive one-handed manipulation of the slide.
The Bersa's sights are dovetailed, with the rear sight set up for Glock-style sights.  The front sight is set up for SIG Sauer-type sights.  So, replacement of the stock rear sight will be relatively easy.  I'll run a complete review on this sight in a future article.
Trigger – The trigger has improved with use.  My initial impression of the trigger was that it was very good for a striker-fired pistol.  Now, I think it is even better.  The take up is a little longer than I first reported, but it is smooth and light.  The reset is very short and follow up shots are pretty sweet.
If I sloooooowly press the trigger, I can feel some grittiness in there.  But, if I steadily press the trigger to the rear in a single, smooth motion, the trigger feels very nice.
I still like this pistol a lot.  As I mentioned in the prior article, my wife is claiming this one for her own.  So, I am ordering a new one with the OD frame for my own.  I don't know that this will replace my Glock 19 as my favorite CCW gun, but it is certainly going to be in the rotation.  The Bersa BP9CC is a solid pistol at a great price.
If you are looking for a review of the Bersa BP40CC, please click here.
Summary
Reviewer
Review Date
Reviewed Item
Author Rating