Compact 1911 pistols in 9mm have always been a tough gun to get right. In this SIG 1911 Ultra Compact review, I'm testing the new 9mm to see if it measures up.
Taking John M. Browning's classic design and then substantially shrinking it is challenge enough. However, chambering the diminutive pistol for another cartridge adds a whole new level of complexity.
Yet, many consumers like the idea of a dwarf 1911 chambered for the small, but zippy, cartridge. Customer demand keeps teams of engineers chained to the drafting desks – or CAD terminals – working on perfecting the design.
Update
In the years after I wrote this 1911 review, SIG SAUER discontinued the pistol. While the company still (at the time of this writing) offers four 1911-style handguns in its catalog.
Of the four, only two are compact and none are chambered for the 9mm. As an alternative, I recommend looking at the Springfield EMP as a compact 9mm in a 1911 platform.
I currently find myself with the results of one of those engineering team's hard work: the SIG SAUER 1911 Traditional Ultra Compact in 9mm.
SIG recently shipped me one of these guns for review. I rarely get excited about "another 1911," but I took a liking to this one almost immediately. In fact, the gun proved to be one of the best 1911 pistols I have tested in many months.
General Information
SIG SAUER has been making 1911 pistols for some years now. In general, I've found them to be very well made and reliable. The guns are not "true" 1911 pistols (one glance at the extractor will tell you that,) but they are clearly based on the original Browning designs.
One of the side effects of the 1911 being so popular is all of the model names that companies invent to differentiate one from another. The specific model, the 1911UT-9-TSS, is also referred to as the 1911 Traditional Ultra and the Ultra Compact 9mm. A rose by any other name…
The guns are single stack pistols that feed from 8 round, stainless steel magazines. Two mags are included with the purchase of the gun. In my test gun, both magazines ran smoothly in the pistol and were without any visual flaws.
The thumb safety is located on the left side of the frame. It seemed slightly larger than some of the others found on compact 1911 pistols. I found it easy to disengage when coming on target.
SIG elected to use an enhanced beavertail grip safety. The top of the part extends out past the travel of the hammer to protect the hand. On a small gun, this is a very welcome feature. The bottom of the safety has a pronounced bump to ensure the hand will disengage it when properly gripped.
Both the trigger and the hammer are skeletonized.
The 1911 Traditional Ultra is fitted with rosewood stocks at the factory. These grip panels look good in photos, but are downright gorgeous in person. The checkering is precise and contrasts nicely with the polished diamonds. The SIG SAUER name is distinctive without being distracting.
Checkering on the front and back of the frame works with the stocks to provide a great grip. The checkered front strap seemingly locks into the hand to help control recoil. I was impressed by how good the grip felt on this gun.
Sights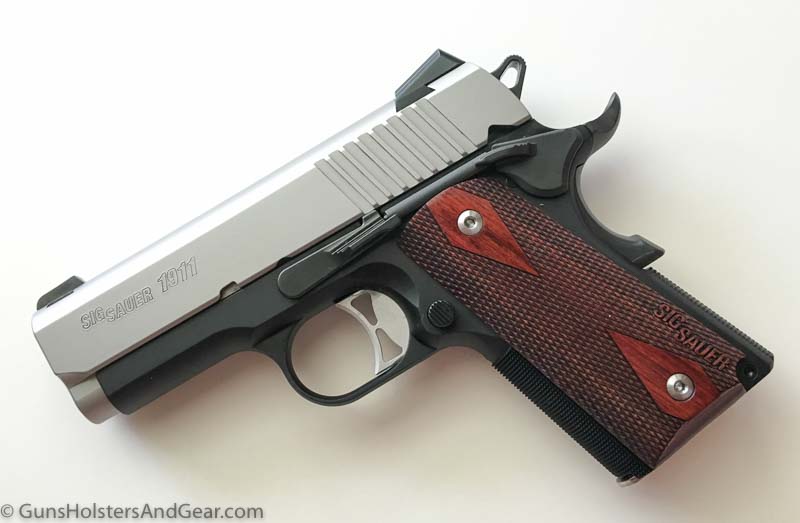 I have to admit that the sights on this pistol are not my favorite, but I know many others will like them just fine. SIG uses a set of three-dot night sights on the pistol. The tritium vials have a thin white outline to offer some visibility during daylight conditions.
By and large, I'm not a fan of the traditional three-dot sights and less of the typical tritium three-dot configurations. The three-dot arrangement can be visually confusing under stress, and tritium sights can be difficult to find in normal lighting conditions.
Don't get me wrong, three dot sights work. I just prefer other systems that in my experience tend to be more efficient. I much prefer to have a large, bright front sight with a rear sight that is more subdued in comparison. XS Sights are well known for having a large, visible front sight. I also like the Trijicon HD Night Sights and Truglo TFO sights.
The rear sight has a sharp notch that aligns nicely with he front sight to make a very clear sight picture on a light colored target. On a dark target, I had to rely on the dots to align the gun.
One other thing I dislike about the sights is the front ramp on the rear sight. While it has a nice look, it completely precludes its use when running the gun one-handed.
Granted, the likelihood of needing to run a gun one handed and manipulating the slide off of the rear sight is very low. However, for a gun that I would carry for self-defense, it doesn't hurt anything to have it prepared for a low probability – but very real – situation.
Specifications
Here are the specification on the SIG SAUER 1911 Ultra Compact:
| | |
| --- | --- |
| Model # | 1911UT-9-TSS |
| Caliber | 9mm |
| Capacity | 8+1 |
| Barrel Length | 3.3″ |
| Overall Length | 6.8″ |
| Width | 1.4″ |
| Weight | 25.3 oz (w/ empty magazine) |
| Action | single |
| Color(s) | black frame, natural stainless slide |
| Grip Panels | rosewood |
| Sights | three-dot tritium night sights |
| MSRP | $1,176 |
At the Range
The SIG arrived on a Thursday afternoon, and I headed out to shoot it the next morning. For the past year, I've had the luxury of shooting at an indoor pistol range that opened up near my office. Todd, Gary and the guys have been a real pleasure to work with, and if you're ever north of Tampa, I hope you drop in and check them out.
I ran through some rounds to ensure the gun was working properly and tested both magazines. Everything seemed to be running well, so I began checking to see what kind of accuracy I could get.
Accuracy
This SIG 1911 Ultra proved to be one of the most accurate compact handguns I've had the pleasure of shooting. With factory ammunition, I was able to make one hole, five shot groups with inexpensive ball ammo at 7 yards. That's handheld, not on a bag. The best of the bunch was a mere 0.587″ across (outer paper edge tear to outer paper edge tear.)
At 15 yards, the groups opened up a bit and the best hand held groups ran 1.5″ – 1.75″. A more skilled shooter could bring those in a bit tighter. Shooting from a bag at 15 yards, I shot around 1″ with ball ammo. The best of these five shot groups was 0.958″ (again – edge to edge.)
Long time readers will attest to the fact that I don't spend a lot of time talking about group sizes. I don't test guns from a Ransom Rest, which means that most of the group size comes from my skill (or lack thereof) as a shooter. I'll give you my general impressions on accuracy and if anything jumps out as being particularly good or bad.
The fact that I am mentioning specific numbers should indicate how much I thought of this gun's ability to place rounds on target.
Ammunition Performance
| | | |
| --- | --- | --- |
| | Velocity | Energy |
| Aguila 115 gr FMJ | 1,053 fps | 283 ft-lbs |
| Blazer Brass 115 gr FMJ | 1,070 fps | 292 ft-lbs |
| Blazer Brass 124 gr FMJ | 1,045 fps | 301 ft-lbs |
| Federal 9BPLE 115 gr JHP +P+ | 1,183 fps | 357 ft-lbs |
| Federal Champion 115 gr FMJ | 1,068 fps | 291 ft-lbs |
| Federal HST 124 gr +P | 1,101 fps | 334 ft-lbs |
| Hornady American Gunner 124 gr XTP +P | 1,049 fps | 303 ft-lbs |
| Hornady Critical Defense 115 gr FTX | 1,066 fps | 290 ft-lbs |
| HPR Ammunition 124 gr JHP | 928 fps | 237 ft-lbs |
| Liberty Ammunition 50 gr JHP | 1,924 fps | 411 ft-lbs |
| Remington UMC 115 gr JHP | 1,049 fps | 281 ft-lbs |
| SIG SAUER Elite Performance 115 gr FMJ | 1,052 fps | 283 ft-lbs |
| SIG SAUER Elite Performance V-Crown 124 gr JHP | 1,001 fps | 276 ft-lbs |
| SIG SAUER Elite Performance V-Crown 147 gr JHP | 864 fps | 244 ft-lbs |
| Team Never Quit 100 gr Frangible | 1,234 fps | 338 ft-lbs |
| Winchester PDX1 Defender 124 gr +P | 1,116 fps | 343 ft-lbs |
| Winchester Train & Defend 147 gr FMJ | 889 fps | 258 ft-lbs |
| Winchester Train & Defend 147 gr JHP | 884 fps | 255 ft-lbs |
Performance measured with a Competition Electronics ProChrono Digital Chronograph at an approximate distance of 15′ from the muzzle of the pistol. All measurements are an average of five shots.
Like all ammunition, barrel length affects accuracy. Since this SIG pistol has a relatively short 3.3″ barrel, I expected to see correspondingly low velocity measurements. Indeed, velocity for the various loads was lower than the same loads shot from other guns I've tested with longer barrels.
Even so, the Federal HST 124 gr +P and Winchester PDX1 Defender 124 gr +P loads exceeded 1,100 fps. For me, these are excellent loads and crossing 1,100 fps is reassuring.
Velocity is a tool ammo designers can use to ensure expansion. In my research and experience, velocities above 1,100 fps have a greater likelihood of ensuring reliable expansion after encountering clothing. Modern hollow point designs are less dependent on velocity to expand, but velocity sill plays a role. All other things being equal, I prefer to have my 9mm defensive ammunition running at or above 1,100 fps.
Reliability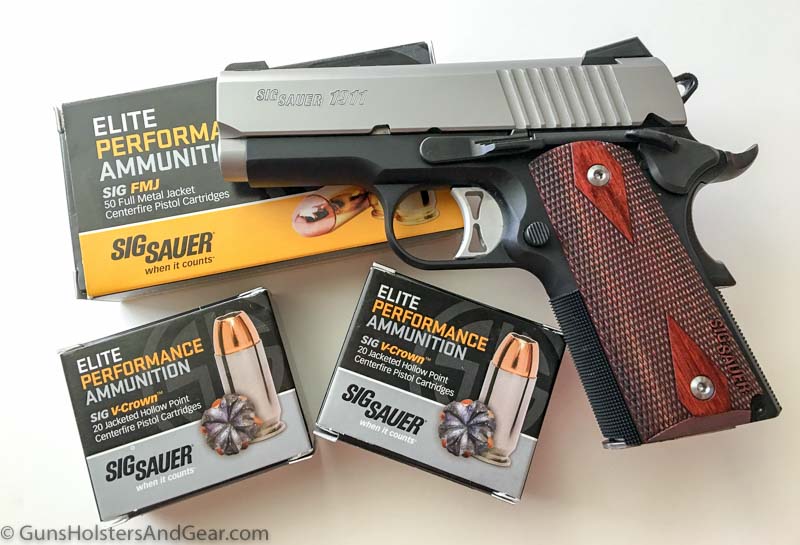 As you can see in the ammunition table above, I ran 18 different factory loads through this pistol. Not all compact 1911 pistols are reliable, and a lot of companies seem to have problems making 9mm work in them. I wanted to know if this pistol could be depended on.
I ran 100 rounds of Blazer Brass through the gun to get warmed up and see where the pistol was hitting. After that I dug into the other ammo – most of it hollow points of varying designs.
The majority of the ammunition stuck to the standard bullet weights: 115, 124 and 147 grains. However, two – the Liberty Ammunition Civil Defense and the Team Never Quit – had light-for-caliber bullets: 50 and 100 grains respectively.
With 17 of the 18 loads, the SIG was 100% reliable. However, I experienced a single stovepipe-type malfunction with the Liberty Ammunition. After shot number four with the ammo, the malfunction occurred. I cleared the malfunction, and the gun kept running.
Is the single malfunction an indicator of problems? Possibly, but probably not. Some people have experienced cycling problems with very light bullet weights in compact pistols. If there is a problem, I would suspect it is limited only to the ammunition since the Liberty load uses such a light bullet.
While the Liberty Ammunition load has been very reliable in many of the compact pistols I have tried it in, I did experience problems with this load in the SIG P938. I'd suggest reading about the ammunition and my experience with it by clicking here.
SIG sent me three different 9mm loads for a carbine article that is in the works. I borrowed a bit from that shipment to see how the company's own ammo would run in its own guns. Not surprisingly, it ran fine. I'm planning on doing a more in-depth review on their ammo in a separate article in the near future. Stay tuned for that.
When all was said and done, I put just short of 500 rounds through the pistol over a 90 minute period. With only one malfunction, I was satisfied that the gun was mechanically reliable.
Final Thoughts
I really liked this pistol. As I stated at the beginning of the article, it is tough for me to get excited about a 1911. However, SIG managed to really impress me with this one.
By way of comparison, I reviewed the STI Escort last year. The Escort is a compact 1911-style pistol also, though in .45 ACP. Even though STI is a highly respected name in the 1911 business, I found that the finish and accuracy of this SIG was better than that of the Escort. That's not meant to be a knock on STI, rather an indication of how good a pistol the 1911 Traditional Ultra Compact is.
The 1911 Ultra 9mm is a great compact pistol. I personally would not carry a 1911 for self-defense based on my years of training and experience with striker-fired handguns. Training myself to the same level of proficiency with a 1911 would take a lot of time and effort that I simply don't care to invest.
However, if you are a big fan of the 1911 platform and are looking for a compact 9mm to carry, give this pistol a close look. My test gun ran extremely well and was very accurate. Fit and finish on the gun make it an affordable barbecue gun as well. Just keep the sauce off the grips.
Last Updated: March 22, 2022
Disclosure
It is extremely important to me that you have a full understanding of any biases or influences that may impact the reviews I do.
This pistol was provided to my by SIG SAUER for the purposes of review. It was originally sent to me to write a review in Combat Handguns magazine, but after Harris Publications closed suddenly, I decided to run the review here. The gun has been returned to SIG.
No money or other consideration was given to write this review, nor was any offered. At no point did SIG ask for, nor did I ever promise, a "good" or "positive" review of the company's product.
I have previously reviewed SIG SAUER products for this site and other publications. For example, you can see an older review of the SIG P290 here.
I have no investment or other interest in SIG SAUER or any other firearms related manufacturing business at this time.
At the time of this writing, SIG is not an advertiser, nor are we in any discussions for them to become one.
GunsHolstersAndGear.com is a for-profit website. I do not charge readers a dime to access the information I provide.
Some of the links on this page and site are affiliate links to companies like Amazon and Palmetto State Armory. These links take you to the products mentioned in the article. Should you decide to purchase something from one of those companies, I make a small commission.
The links do not change your purchase price. I do not get to see what any individual purchases.