Kalashnikov USA announced the introduction of the AK Alpha rifle to the US market. The new gun uses an AK-style action, but upgrades the platform to provide a rifle with more modern features and utility.
A quick glance at the rifle will tell the average gun enthusiast that this rifle is not a plain WASR. In fact, nearly everything looks like it has been touched in the modernizing process. According to the company, the rifle was designed with input from a select group of Israel Defense Force (IDF) snipers. I hope that means that the gun is easier to run without sacrificing any of the platform's reliability.
Two models will be available: the AKL with a 16.338″ barrel and the AKS with a 12.362″ barrel.
Caliber and Charging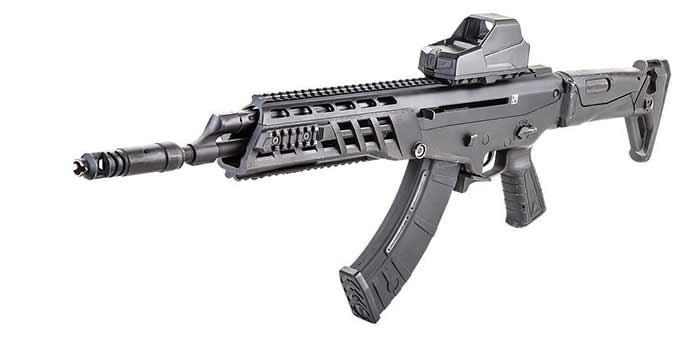 The guns are chambered in the iconic AK cartridge: the 7.62×39. As one would hope, the guns are fed by standard AK magazines, so all of the surplus feeders, plus the newer US Palm and Magpul mags should all run in these rifles. The magazine catch lever is in the same spot, though the catch has been upgraded.
The bolt can be run from the right or left side of the gun. Although Kalashnikov USA claims the charging handle is ambidextrous, it appears to be swappable from side to side.
Features and Accessories
A full length Picatinny rail adorns the top of the gun. This allows for the very easy addition of sights and an optic. Compared to some of the kludgy ways of adding red dots to traditional AK-pattern rifles, this is a nice addition.
Up front, a KeyMod handguard is used. This keeps things relatively light while still providing a way to add accessories.
A big change from the traditional AK is the safety. Kalashnikov USA opted to install an ambidextrous AR-style selector. Purists might balk, but there are a lot of people who prefer this style.
On the back end, Kalashnikov uses a buttstock that folds and is adjustable for length of pull. The stock even includes a cheek riser to help you get a better fit on the rifle.
The pistol grip has interchangeable panels. These allow the owner to find the most comfortable fit for his/her needs. The grip also has a watertight storage compartment for batteries should you decide to run a red dot on top.
Many shooters may recognize some of the components looking like parts from CAA. This is an accurate assessment. A glance at the CAA site shows these exact rifles. Additionally, the CAA site shows a 5.56 variant using Galil magazines. I've reached out to the Kalashnikov USA media rep for additional information.
Pricing and Specs
No MSRP has been set yet, and an exact shipping date has not yet been announced.
| | | |
| --- | --- | --- |
| | AKL | AKS |
| caliber | 7.62x39 | 7.62x39 |
| magazine capacity | 30 rounds | 30 rounds |
| barrel length | 16.338" | 12.362" |
| overall length | 26.98" - 37.4" | 12.362" - 22.99" |
| weight | 7.7 pounds | 7 pounds |
| stock | folding, adjustable length | folding, adjustable length |
| MSRP | not yet given | not yet given |