Flashlights – both hand-held and weapon-mounted – are important for self-defense, survival and law enforcement duties.  If you can't see in the dark, you are at a serious disadvantage.  In these flashlight reviews, I take a look at a variety of different illumination methods and tools you can use to mount them to your firearms.
Some of the white lights listed below include laser aiming devices, while others are just an illumination tool.  Make sure you read each review to understand the features of each tool. Also, please review the testing protocol I use so you have a greater understanding of exactly what I did and how the results compare to other lights I have tested.
Reviews
We still have a number of flashlight and weapon light reviews in the pipeline.  As we complete them, we will post them to the site and list them here.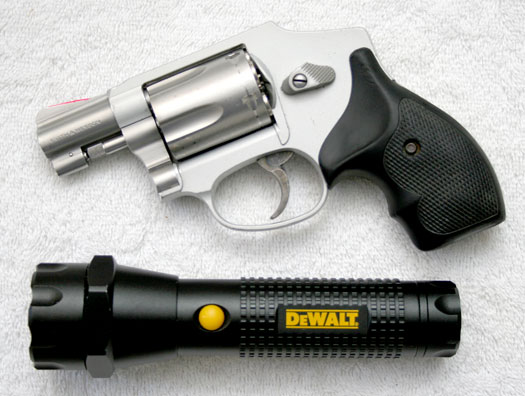 If you have any specific requests, feel free to let us know.  We cannot guarantee to get to every one, but we will certainly try.
Testing Protocols
Note: These testing standards were last updated on July 17, 2015. Testing done prior to this date may not adhere to these standards. Older reviews will be updated as time permits.
Note: Recently, ANSI/PLATO updated the FL-1 standard. I am reviewing this standard and making determinations on what, if any, aspects of my flashlight testing can be improved.
There has never been a better time in history for anyone looking for quality flashlights. The market is awash with manufacturers making all sorts of tactical and utilitarian handheld lights. However, with so many options, consumers can easily be overwhelmed by the marketing hype used by so many companies.
It is my goal to cut through the BS and give you a reasonable idea of the performance you can expect from each light.
Working with members of both the flashlight and firearms world, I have developed a series of tests that I will perform on each flashlight I review. These tests are described in greater detail below. In summary, they are:
output over time
heat generation
impact resistance
water resistance
visual comparison
In addition to these tests, I will describe the various features and workings of the light along with my experiences while using it.
Please note: The tests I do are not scientific. While I try to control for some of the most obvious variables, I am not conducting these to establish any absolute stats or to prove/disprove a manufacturer's stated specifications. The data collected through this testing is intended to illustrate the relative usefulness of a flashlight and to provide limited comparison data between different lights tested with the same protocols.
A Note About the FL-1 Standards
ANSI/NEMA FL-1 is a set of voluntary standards developed to help consumers compare different flashlights. The standards are not perfect and can be gamed. I believe that they are an important step forward for consumers. As time progresses, the standards can be improved.
The FL-1 standards are voluntary, and not all flashlight manufacturers adhere to them. Additionally, and perhaps most important, the standards are not policed by any organization. This means that a company could conceivably fabricate all of the testing data and no one would ever be able to make them stop.
Although the standards were, in theory, developed to assist consumers, they are not published for public viewing. The National Electrical Manufacturers Association publishes the standards and charges $70 for the privilege to examine them. I ponied up the money to ensure I could speak with some authority on the subject. The non-enforcement ability of NEMA is clearly stated in the standards.
In the descriptions of my tests, I will make reference to the related (if any) FL-1 standards and explain the differences as needed.
Output Over Time
Two of the main things that many people are interested in are:
How bright is the flashlight? and
How long does it run?
This is where the FL-1 standards fail to deliver an accurate picture to the consumer. The FL-1 standards test for light output, peak beam intensity, and runtime. However, they do not offer any information regarding "how bright for how long."
For the total light output measured in lumens, the flashlight is turned on and the highest reading measured by the testing equipment in the 30 seconds to 2 minute time range after the light has been turned on. So, to get a high output number, the light could be designed to hit a peak 31 seconds into the run and then drop off to virtually nothing.
But wait, you say…what about the runtime?
Well, in the FL-1 standards, run time has very little to do with the reported output. According to the FL-1 standards, run time is calculated from the peak measurement (the reported output) until the light dwindles down to a mere 10% of the peak.
In theory, an FL-1 compliant flashlight could put out 100 lumens at 31 seconds and then drop to 11 lumens at the 32-second mark. Then at 11 lumens, the light could limp along for two hours before finally dropping below the 10% threshold. The reported stats: 100 lumens output with a two-hour runtime. Clearly, those stats do not tell the whole story and can paint an inaccurate picture in the consumer's mind.
Good companies will publish a performance curve that shows output over time, but some do not.
Elzetta put together this video to try to explain the problems with the standard here:
For my testing, I use a homemade illuminating sphere to measure visible output through the lens in lux over time. A scientific illuminating sphere costs $10,000 and up. These can give precise measurements and exact lumen output. I'm afraid that this is an expense that is outside the reach of this website's budget currently. However, a homemade illuminating sphere can still be very useful even if I cannot measure exact lumen output.
The sphere allows me to show a flashlight's output over time – essentially replicating the expected performance curve. This should give you a reasonably accurate idea of how well the flashlight maintains its brightness over the life of the batteries.
While the measured output in lux is not comparable to the published output in lumens, the numbers should be reasonably accurate enough to suggest that of two lights I test which would be brighter. In other words, I cannot tell you if a manufacturer's claims of 100 lumens (or whatever) is accurate, but I can tell you if the light is brighter than another flashlight that I've tested using this sphere.
My illuminating sphere was made using a hollow styrofoam sphere with an internal baffle and ports cut for both the flashlight and a light meter. I am using an Extech HD450 that allows me to capture light readings at regular intervals over time (such as one reading per second for two hours.)
Power Sources
FL-1 specs require the use of the batteries the flashlight ships with, or the batteries specifically recommended by the manufacturer. I follow a different protocol to better compare flashlights by using the same kind of batteries from test to test. For each test, a fresh set of batteries is used. Testing is conducted with the following kinds of batteries:
For flashlights that ship with rechargeable batteries, the batteries will be fully charged per manufacturer recommendations prior to testing.
Heat Generation
During the run time testing described above, I use an infrared thermometer to take external temperature measurements of the flashlight at regular intervals. Depending on the efficiency of the electronics and the design of the light (use of radiator fins, etc.), temperatures can vary widely from light to light – even for lights with very similar output ratings.
Some flashlights can become very hot – even too hot to hold. If a light is going to become unreasonably warm, you should know about it prior to buying.
There is no FL-1 standard related to heat.
Impact Resistance
Flashlights are like any other tool; they will be dropped from time to time. It is important to know that your light will not fail because it hit slipped from your hand and hit the sidewalk.
Many manufacturers claim varying degrees of impact resistance. The most common is a 1-meter drop resistance, though 2 meters or more can also be claimed.
It has been my experience that some lights do not measure up the impact resistance claimed by the company building them. As a former police officer, I relied heavily on my flashlights. They were constantly exposed to abuses that are not typical for the average gun owner. So, I took this rating seriously and developed my testing protocol to reflect that view.
If you imagine a flashlight as a cube, it would have six sides. I drop the flashlight from each of those six "sides" onto a concrete sidewalk. The drop height is determined by the claims made by the manufacturer. If no claims of impact resistance are made, I test the light at a 1-meter height.
To ensure strikes on the head and tail of the flashlight, I use a PVC tube to guide the flashlight's journey to the hard concrete. The tubes are sufficiently oversized to prevent slowing of the fall due to friction, but will still ensure the correct end hits the ground first.
In addition to the obvious question of "Does the flashlight work after dropping," I also look at how the impacts affected the light's body. There is a wide range of finishes and materials that are used. Some are better than others, and you deserve to know what is going to be the most durable.
The FL-1 standard for impact resistance requires five sample flashlights to all pass a drop test very similar to the one I use. Those lights must pass with a 100% success rate. Unfortunately, I do not have the budget to run this test with five flashlights.
The FL-1 standard does not measure or fail a flashlight for cosmetic damage. However, visible cracks and breaks will fail the light.
Curiously, the FL-1 standards state that 1 meter is the minimum height that may be reported as an impact resistance rating. Additionally, for any ratings greater than 1 meter, the measurement must be rounded down to the next lowest whole number. For example, a 1.9-meter rating would be listed as 1 meter. I have seen flashlights list ratings outside of these standards (e.g. 2.5 meters.) This is another example of where a lack of enforcement can result in the standards not being followed.
Water Resistance
Many tactical flashlights are rated as being water resistant or waterproof. Water resistance suggests the light is not going to die because it was splashed by a wave, spilled drink or even heavy rainfall. The term waterproof, however, suggest the light can be submerged for a period of time and continue functioning.
Most companies that list a light as waterproof will list the light as IPX4 (water resistant), IPX7 (waterproof to 1 meter for 30 minutes) or IPX8 (submersible to a manufacturer-specified depth for four hours.) As with the drop test, depth should be rounded down to the nearest whole meter according to FL-1 specifications.
For my testing of waterproof claims, I use paracord to suspend the light in a salt water pool. This works great for one-meter testing. I have not yet developed a reasonable protocol for testing flashlights that claim waterproofing beyond one meter. Perhaps something with a pressure cooker? Suggestions are welcome.
In both my testing and in the FL-1 standards, the water resistance testing is done after the impact testing. That way if the drops compromised the integrity of the light's seals, it will show up. Like in the impact testing, the FL-1 standard requires all five lights from the impact testing to pass the water test for the manufacturer to claim the water resistance rating.
According to FL-1 standards, a flashlight will still pass if there is limited water intrusion into areas other than functional areas that have unprotected electrical components (circuit board, batteries, contacts, etc.)
Final Thoughts
It is not my intention to regularly change my testing procedures. That would make things difficult for you to try to compare two different lights that I have tested.
That said, I am open to suggestions on how to improve my reviews. Let me know what you think in the comments section. All reasonable suggestions are gladly accepted and will be considered.