Just announced is the Taurus 845 pistol chambered in the very popular .45 ACP cartridge. Â This completes the company's 800-series of firearms which includes the original 809 in 9mm and the also new 840 in .40 S&W.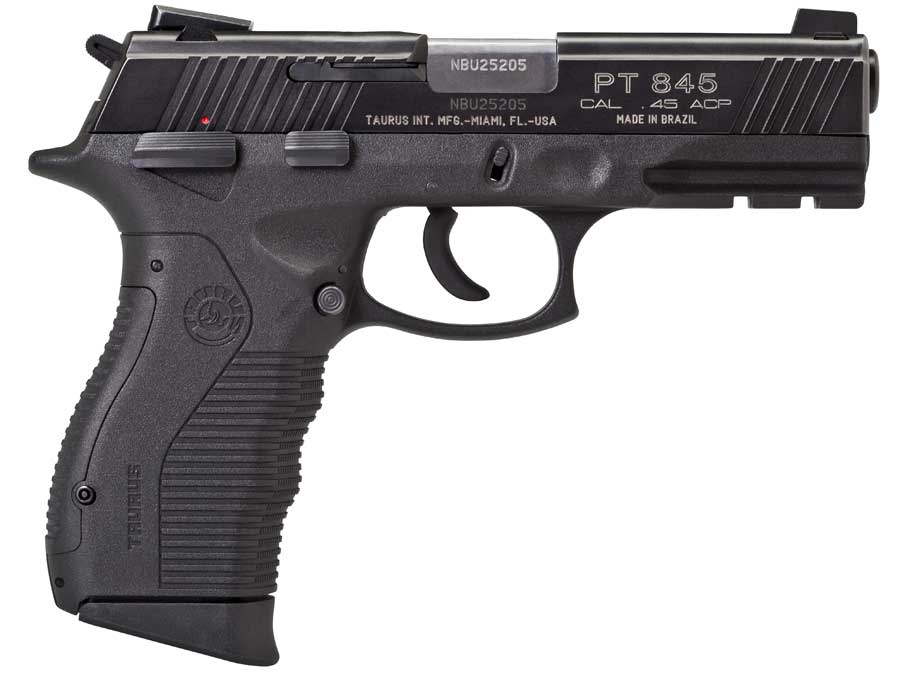 The new 845 uses a double stack magazine which holds 12 rounds. Â Including one in the chamber, that gives the shooter 13 rounds of .45, which is enough to end nearly any fight.
The new 840 packs a 17+1 capacity if you are interested in that handgun.
Taurus 845 Pistol
| | |
| --- | --- |
| caliber | .45 ACP |
| standard magazine capacity | 12 rounds |
| barrel length | 4" |
| safety | three position manual |
| MSRP | $497.00 |
All of the pistols in the 800 series are polymer framed and strike fired. Additionally, all of the pistols have the "second strike" capability, which is a feature that a growing number of shooters desire. The 800 series pistols have an external thumb safety/decocker.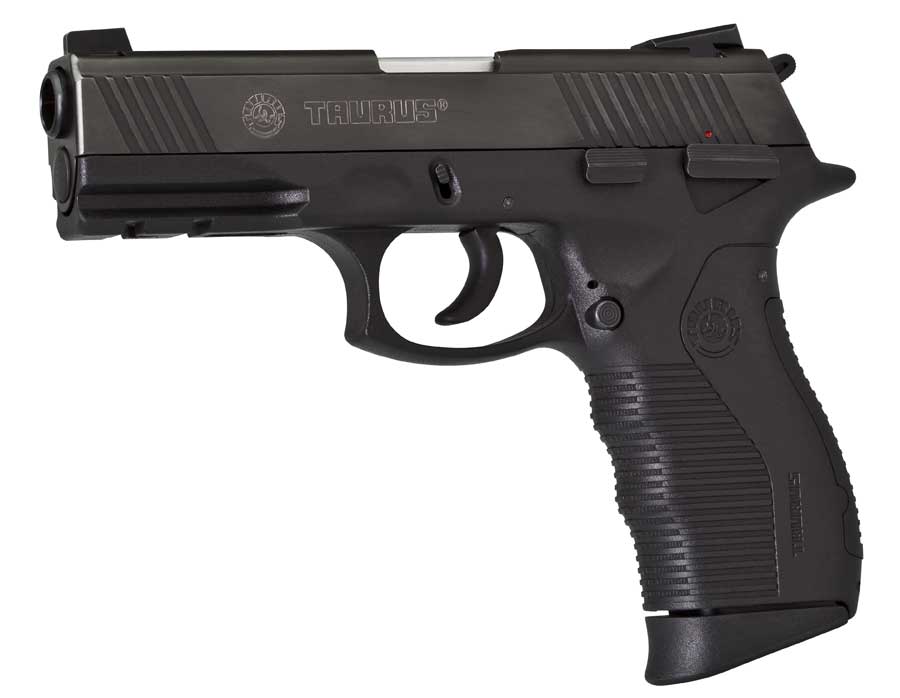 Bob Morrison, President of Taurus International, said on Tom Gresham's Gun Talk that all three of the pistols were in production now, and that they would be on the shelves in April.
Touting the ease in which these pistols can be field stripped, Morrison said that the 800 series has "the easiest take down on a modern firearm."
Earlier reports indicated that the 809 pistols would have a 17+1 capacity, however Morrison stated that the 809 would actually have a 19+1 capacity.
The barrel length is 4″. Â It comes with a lifetime repair policy.
The price on these pistols? Try under $500 retail. Â Assuming that dog will hunt, it is a great deal in anyone's estimation. Â Until I get my hands on one for review, however, I will hold off on giving these new pistols my endorsement.
Taurus 845 Handgun Specifications by Richard Johnson
Taurus is a decent gun company, but I have had mixed luck with some of their pistols. Â I don't consider myself a gun snob, but I do expect that a gun carried for self defense be up to the task. Â The Taurus 845 is probably up to the task, but without putting rounds downrange with one, I am not willing to sell people they should consider buying one. Â If you think this gun offers the features you want, and you are willing to put 1k or more rounds through it to test its reliability, go for it and let us know how it did!
For all of the specifications on the 845 pistol, click here for the sales sheet released by Taurus. Â This sheet will give you additional details on this new gun.