Smith & Wesson announced a new AR-style pistol chambered in .22 LR: the M&P15-22P.  The M&P 15-22P is a polymer framed semi-auto pistol based on the S&W M&P 15-22 rifles.
The new S&W handgun has a 6″ carbon steel barrel with a 1:15 twist, and weighs 51 ounces (unloaded).  The detachable magazine holds 25 rounds of .22LR ammunition.  This is the same standard capacity magazine that is used in the M&P15-22 rifle.  So, if you have one of those, you can swap mags between the two guns.
The M&P 15-22P features a full-length optics rail along the top of the gun, and a mini-quad rail for lasers, lights, can openers and Romulan cloaking devices.  A swivel point attachment is also included for attaching a single point sling.
The pistol will be available in May 2010, and has an MSRP of $585.00.  The M&P15-22P has a S&W lifetime service policy.  In my experience, Smith & Wesson does an excellent job with their customer service department.  I have used their services in the past and I have been pleased each and every time.
The gun will not be available for sale in several anti-freedom states: Â MA, CT, CA, MD, NJ and NY. Â If you live in one of these states, your government has determined that this gun could spontaneously kill you or other people. Â If you would like to own this .22 rimfire, load the car and join us in the free states. Â The chair is against the wall.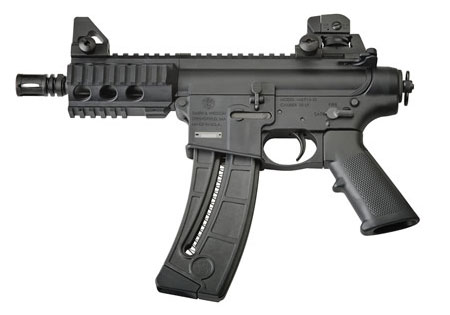 2013 Update
Sad news folks. Â Smith & Wesson is no longer making the M&P15-22P. Â Almost always, when a company cancels a product line it is because there was a lack of demand. Â Since I never saw a recall on this pistol, I am fairly confident in guessing that there was not enough sales for S&W to profit on these. Â If you've got one, don't sell it thinking you can pick up another at a later date.