So, you recently purchased a Springfield Armory Hellcat and now you want to add a red dot sight (RDS). The question is "what optics are compatible for a Springfield Hellcat OSP?"
Don't worry – I've got you covered.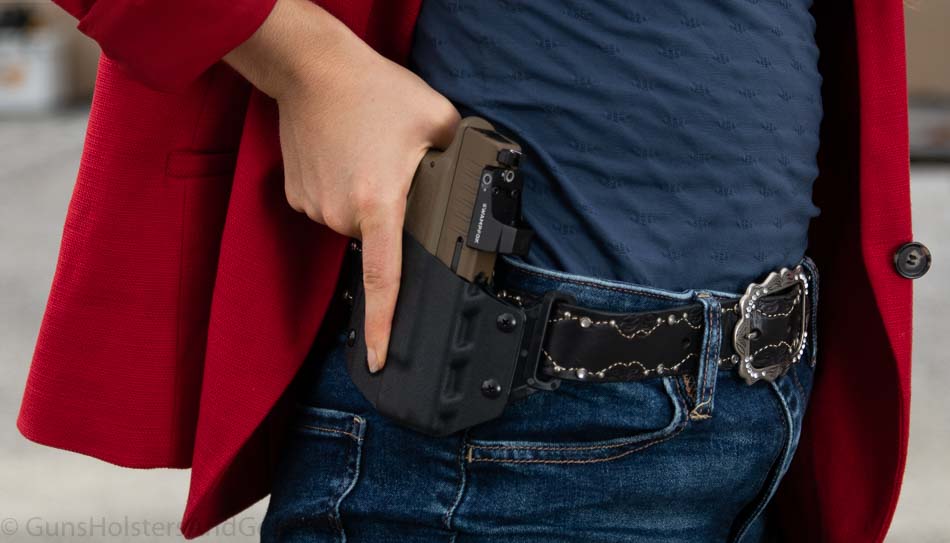 Like you, I'm the owner of a Hellcat pistol. I was confronted with the same question when I wanted to drop an RDS on it. Unfortunately, there weren't many good resources of information on optics that would fit the handgun.
So, I decided to make my own to help you out. I put them all into a single list that I hope will assist you in making your own decision about what will work best for you.
Let's get to it.
Oh, and for those curious, I picked the Swampfox Sentinel. I am extraordinarily pleased with that decision. More on that farther down.
ADE Spike
ADE Advanced Optics is an Oregon-based company that imports inexpensive shooting gear from China. One of the newest products it plans to offer is the Spike.
Highlights
not yet available
projected to be very inexpensive
poor experience with another ADE product
made in China
Not much information is available on the Spike other than it will fit the Hellcat.
The company initially expected to introduce the Spike in June of 2020 but missed that shipping date. The company's website has no further updates on when it expects to offer these.
I strongly caution against buying the Spike based on my prior experiences with another of the company's optics.
I tested the ADE RD3-009 red dot sight during my review of the Girsan MC1911-CT pistol. The optic's glass shattered with less than 15 rounds through the gun.
These are Chinese-made optics at a very low price point. I would not be surprised if many of the optics encountered problems with regular use.
Holosun 407K & 507K
Holosun is very popular with many shooters as the company's products tend to offer a good balance of price and performance. Several readers have reported good success with the 407K/507K mounted on the Springfield Hellcat.
However, there is a serious drawback to mounting these sights to your Hellcat (read below.)
Highlights
7075-T6 aluminum body
fixed 6 MOA dot (407K) or Muti Reticle System (507K)
IP67 resistance (submersible to 1 meter for 30 minutes)
12 manual brightness settings
no paperwork needed lifetime warranty regardless of purchaser
made in China
best prices I've found on the 407K here and the 507K here
While the mounting screws are in the same place as a standard RMSc footprint optic, the Holosun sights are not 100% compatible with RMSc-type slide cuts. For reasons that escape me, Holosun did not mill the bottom of the 407K or 507K to accommodate the indexing lugs that are found on the Springfield Hellcat.
To mount the Holosun sights, you have two options. The first is to permanently alter your pistol slide by grinding down the lugs. There are companies that offer this service for about $75-100.
The second option is to purchase an adaptor plate. An adaptor will allow you to mount the Holosun without machine work on your slide. C&H Precision Slide offers a plate for $45. An adaptor will add a small amount of height and weight to the optic.
Both of the sights share a number of features with the reticle being the standout difference. The 407K uses a plain 6 MOA red dot while the 507K uses something called the Multi-Reticle System (MRS.) The MRS gives you a wide 32 MOA ring encircling a smaller 2 MOA dot that is very similar to the EO Tech reticles. You can also change the 507K reticle to the circle only or dot only.
Features the sights share include a 7075-T6 housing, IP67 rating (submersible to 1 meter for up to 30 minutes) and the Shake Awake technology that provides up to 50,000 hours of runtime.
If you are interested in the 407K, you can get it here. Likewise, the 507K is available here.
Riton Optics X3 TACTIX MPRD

Riton Optics offers a straightforward red dot sight that will fit your Springfield Armory Hellcat pistol.
It does not offer all of the features that some other optics do, but the unit is affordable and backed by an "unlimited" lifetime warranty.
Highlights
6061-T6 aluminum body
multi-coated HD glass with 99.5% light transmission
3 MOA dot with manual illumination adjustment
water-, fog- and shock-proof
0.6 oz
no paperwork needed lifetime warranty regardless of purchaser
made in China
Riton uses a strong 6061-T6 aluminum alloy for the X3 TACTIX MPRD body. While not as strong as 7075-T6, it is sill a durable metal used in many firearms accessories and some AR receivers. It should more than durable enough for a pistol optic.
The X3 TACTIX MPRD uses a 3 MOA red dot projected onto a glass lens that has been finished with an anti-reflection coating.
To activate the optic, you press the up arrow button on the side of the unit and keep pressing until you reach the desired brightness. For a range gun, this is fine.
On a self-defense optic, I prefer an always-on option. You aren't likely to get into a defensive shooting only when you are ready for one. Who knows if you will have time to turn on your pistol's optic and then cycle through the brightness levels to get to an appropriate one.
Riton states the unit is "100% waterproof" but does not offer an IP rating.
One of the most impressive aspects of this sight is the warranty that Riton offers. The company backs the X3 TACTIX MPRD with an unlimited lifetime warranty. You don't need any paperwork and it doesn't matter who purchased the unit. If it breaks, they send you a brand new unit – often shipping it within 48 hours.
Shield RMSc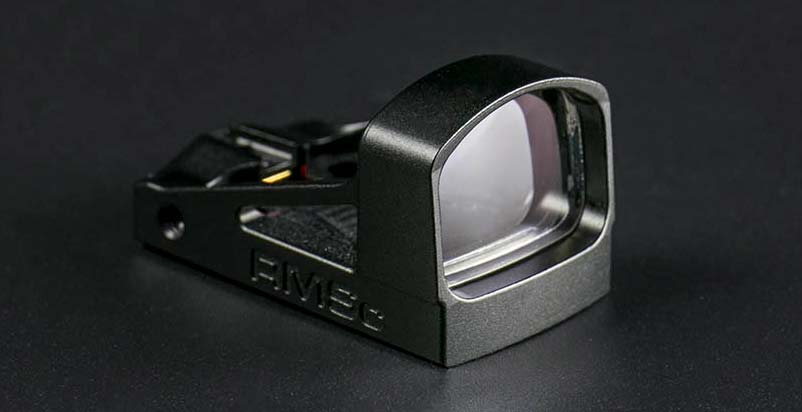 Shield Sights Ltd manufactures a number of reflex-style sights including two that will work on your Springfield Hellcat pistol. The first – and original – Hellcat optic is the RMSc.
Highlights
lightweight at only 0.57 oz with a battery
side drawer battery compartment for easy replacement
aluminum body with polymer lens
4 and 8 MOA dot with auto-adjusting brightness
made in the UK
The RMSc is an affordable reflex optic designed for micro-compact pistols.
It uses a polymer lens instead of a glass lens. According to the company, a polymer lens is much more resistant to impact than glass. The company uses an anti-reflection coating on the lens to reduce glare.
The body is made of aluminum though it is unclear what kind of aluminum is used.
You can purchase the RMSc with either a 4 MOA or 8 MOA red dot. The design allows for the co-witness of the factory Hellcat sights.
This is a constant-on optic with an automatic brightness adjustment. According to the company, the lowest power is NV compatible and the brightest dot is daytime visible.
A single CR2032 battery powers the optic for 2+ years of average use. A battery drawer allows for the replacement of the battery without removing the optic.
No information is provided by the company regarding durability testing or water resistance.
Shield offers a limited lifetime warranty on its sights with a limit of 7 years on the electronics.
Shield SMSc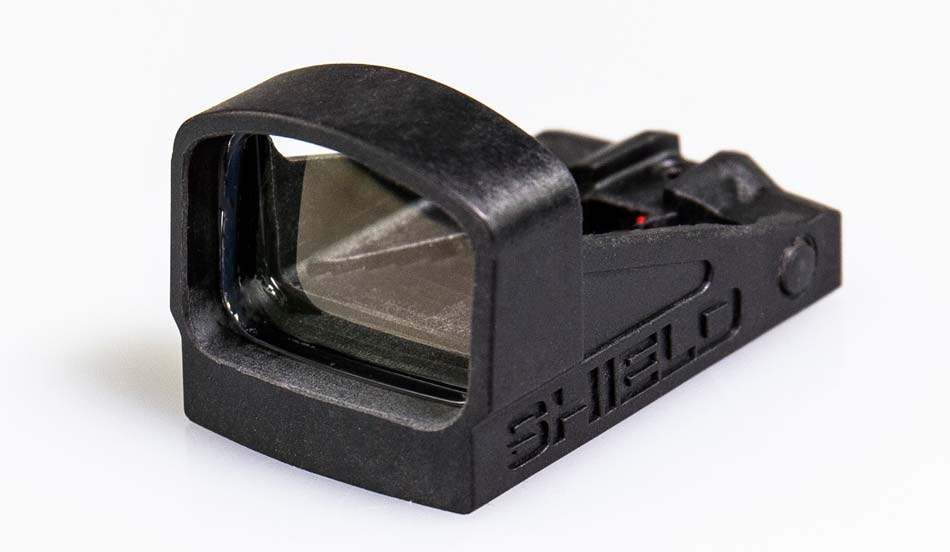 Shield Sights offers a second micro-sight for the Hellcat. It is called the SMSc.
Highlights
updated version of RMSc
lightweight: 0.44 oz with battery
polymer body with quartz coated polymer lens
4 and 8 MOA red dot with automatic brightness adjustments
made in the UK
The SMSc is very similar in appearance to the RMSc. However, it has some significant differences.
First of all, the SMSc uses a polymer body instead of an aluminum one.
I prefer a tough aluminum housing for an optic as it might get banged around a bit. Nevertheless, polymer can be very tough and is likely acceptable in this application.
The second significant change in the SMSc is the lens. With the SMSc, you have the option of a polymer lens with a new quartz coating or you can go with a glass lens. According to the company, these lenses offer "extra resilience to the daily wear and tear of shooting."
Another difference between this optic and the RMSc is that the SMSc does not have a battery drawer. If you wish to swap the energy cell, you have to remove the sight.
While the company still does not provide any water intrusion resistance rating, deleting the drawer likely increases its ability to keep working in the rain.
As with the RMSc, the company offers a limited lifetime warranty on the SMSc. Electronics are limited to a 7-year warranty.
SIG SAUER Romeo Zero
SIG SAUER surprised a lot of people when it jumped into the optics market. But they put the pedal down and haven't let up. The company's optics line is legitimately huge.
One of its newer offerings is a perfect match for the Springfield Armory Hellcat: the Romeo Zero.
Highlights
instant-on sensor
manual brightness adjustment
3 or 6 MOA dot
0.4 oz
no water or impact resistance specifications provided
parts made in China, final assembly in USA
A red-dot-style reflex sight, the Romeo Zero uses the same RMSc footprint that the other optics on this page use. That means it mates up directly to your Hellcat's slide without the need for any adaptor plates.
The sight offers a number of features that compare favorably to the other options including a very lightweight (0.4 ounces) and an affordable price tag (MSRP: $219.)
Additionally, the Romeo Zero has a motion-activated red dot. In other words, it should sense you drawing the gun and turn on. In my opinion, this is superior to the manual optics. The optic is powered by a single CR1632 battery and will run for up to 10 years with normal use.
Brightness is manually adjusted with a single button. Press this to cause the light to get brighter. After hitting the brightest setting, it then reduces with each press of the button.
SIG opted to use a polymer body with a polymer lens. While durable, these components likely contribute to the relatively inexpensive price tag.
SIG states the polymer lens uses SpectraCoat for "10 times the impact resistance" when compared to other glass lenses. Yet, the first review on the company's own site (at the time of this writing) states the polymer lens was scratched from debris with less than 50 rounds fired. That is not reassuring.
One issue you are likely to experience with the Romeo Zero is the mounting screws are too long for the Hellcat. You will need to file them down to 9.6mm in length for a proper fit.
Filing the screws down is a pain, but if you like this sight, it is not a difficult task. You just have to be careful not to harm the threads.
Alternatively, I've been told that the M4-0.7x10mm screw is the proper size for mounting the Romeo Zero on your Hellcat. Although I've not tried this method, it would be my first choice with the SIG SAUER optic.
SIG backs the optic with the SIG SAUER Infinite Guarantee. No receipt is required and the warranty is not attached to the original purchaser. However, the electronic components are warranted for only 5 years.
Swampfox Sentinel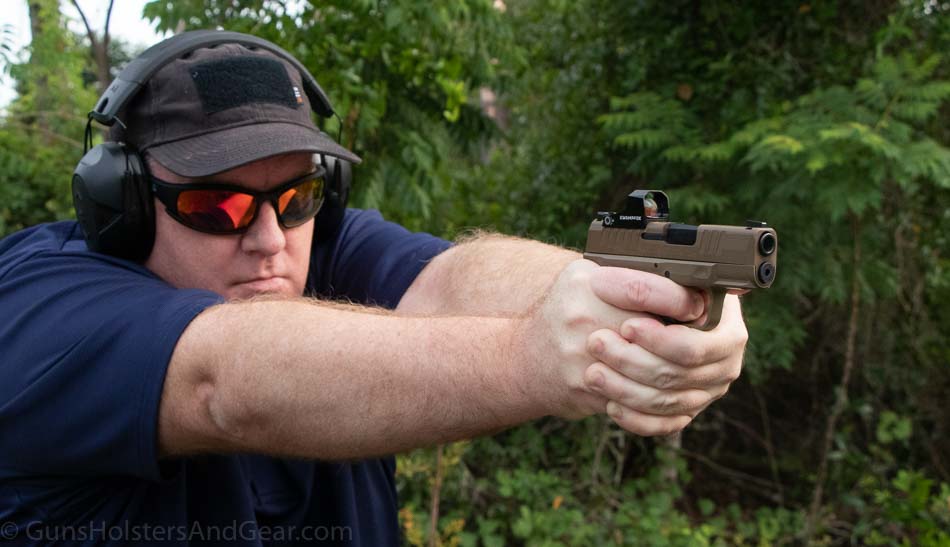 This is my pick for the best Springfield Armory Hellcat red dot sight.
I've tested mine extensively and it handles everything I throw at it. Let's take a look at the details.
Highlights
high-quality construction: 7075-T6 body and multi-coated lens
excellent durability in testing
3 MOA red dot with rapid and automatic brightness adjustment
0.62 oz
made in China
50,000 round performance guarantee
very affordable: less than $300 each for all models
I've extensively tested the Swampfox Sentinel on a Hellcat pistol, and I encourage you to read my full review of it. However, I want to hit the highlights here as well.
The Sentinel comes in two forms: one is a completely manual optic while the other is automated. Both are the same size and offer the same quality of construction.
Bodies are CNC machined of 7075-T6 aluminum. This is a high-strength aluminum alloy designed for critical aviation components. It is also the same material used for the standard M4/M16/AR15 receiver. It is tough stuff, and the toughest material used in any of these optics options.
Swampfox uses a true glass lens with multi-coatings to reduce the potential for fogging and scratches. Further, the coatings repel water to keep it free of water distortion in rain.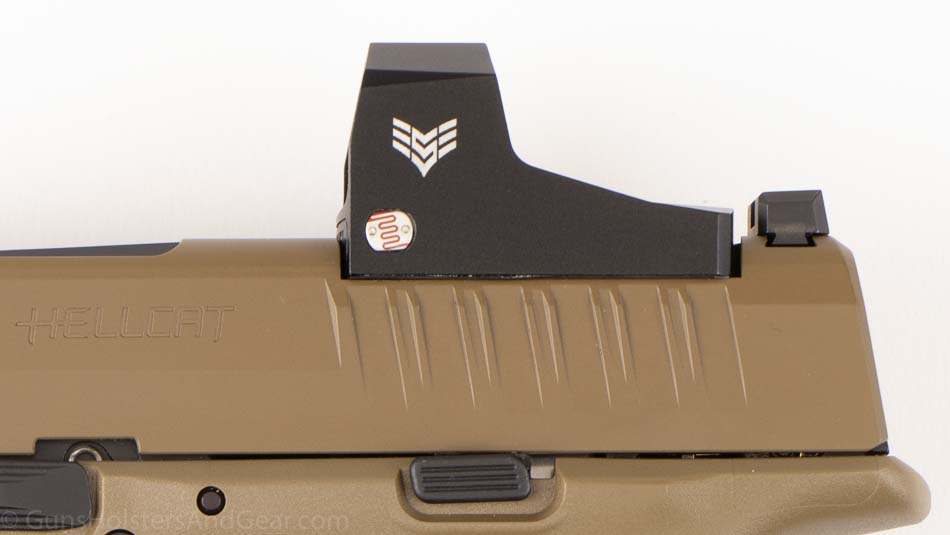 Speaking of water, the company states the optic is IPX7 rated. This means you can submerge the optic to a depth of one meter for 30 minutes and it will keep on working. This is well beyond the rain resistance that many optics offer.
I tested the always-on version of the Sentinel. With this model, a single CR2032 battery offers about two years of constant use.
It automatically adjusts the brightness of the 3 MOA aiming dot to the lighting conditions. I found the adjustments to be near-instantaneous. It always hit the right amount of brightness for me to clearly see the dot regardless of the background.
Swampfox backs its optics with a 50,000 round guarantee. If the Sentinel stops working within 50,000 rounds of live fire, the company will repair or replace it. Frankly, few people run 5,000 rounds through their pistol and almost no one will shoot 50k. So, this should be a lifetime warranty for most readers.
I highly recommend the Sentinel.
Trijicon RMRcc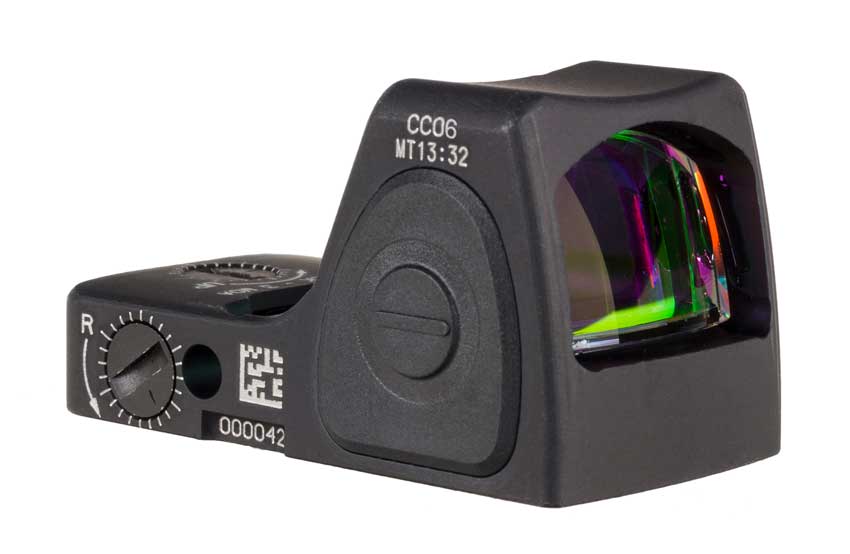 Trijicon now offers a miniature version of the RMR sight that will fit the Springfield Armory Hellcat pistol. Called the RMRcc, the new red dot sight can be had with either the 3.25 MOA dot or the 6.0 MOA dot.
Both versions of the RMRcc for the Hellcat use a similar design to the original RMR. However, the sight is both thinner and lighter. This makes it a good match for any micro-compact pistol.
Highlights
made in the USA
rugged 7075-T6 aluminum body
multi-coated glass lens with 3.25 or 6.0 MOA dot
waterproof to 20 meters (no IP rating)
1 oz with battery
lifetime warranty
MSRP: $699.00 but nearly $200 cheaper here
Trijicon is known for its tough optics, and the RMRcc is in the same category. Like the Sentinel above, the Trijicon RMRcc uses a body made of 7075-T6 aluminum.
The company states the RMRcc is waterproof to 20 meters (66 feet.) However, the company does not make any claims with regards to how long the optic can be submerged, nor does it provide an IP rating. IP ratings are objective tests that measure water and dust intrusion.
This sight uses a CR2032 battery that is rated to run more than four years continuously in a controlled environment with the brightness set at a medium level. Change your battery once a year and you'll never have an issue.
It has eight brightness levels with two being suitable for night vision use.
The RMRcc has a unique footprint – not the standard RMSc used by the other companies. This means that you will need to purchase the proper mounting plate from Trijicon to fit the Hellcat. The proper size plate is part number AC32092 for the Hellcat OSP pistol.
Final Thoughts
Most of the options on this list are good choices for your Hellcat. I recommend avoiding the ADE brand based on my experience, but your experiences may be different.
If you want a top-notch optic that won't break the bank, take a look at the Swampfox Sentinel.
However, if you need a good red dot and your budget is tight, the SIG Romeo Zero is a good choice. You give up the water-resistance and take on a polymer body. If you take care of it, it should treat you right.
Just find the one that makes sense for you and get to the range!
Disclosure
GunsHolstersAndGear.com is a for-profit website that I own. This is a true American small business and not part of a large, international conglomerate. You might be surprised at which other gun and firearms sites are owned by large corporations.
I earn money through the use of affiliate links to partners like Optics Planet and Palmetto State Armory. When you choose to purchase something through one of those links, I earn a small commission. Those links do not alter your price. I do not see what any individual buys nor do I get your email address or other information.
I link only to companies that I already do business with. If I did not trust the company, I would not link to them.
If you have any questions, please leave them in the comments section below. Feel free to disagree with me or point out what you think I got wrong. I just ask that all comments stay civil because this is a family-friendly site.