There has been much talk about improving the AR-15/M-16 with a gas piston system rather than the direct gas impingement system in use since the 60's.  Companies like the Ruger have attempted to capitalize on this trend by producing gas piston rifles such as the SR556.  If you already own an AR or two, you can retrofit your gun with a piston system, potentially saving you hundreds of dollars.
Addax Tactical makes a gas piston upper for the AR-platform called the ATAC-GPU or Advanced Tactical AR Carbine Gas Piston Upper.  Addax Tactical states the ATAC-GPU "utilizes a specially designed, self regulating, long stroke piston system for enhanced dwell time and lower recoil."
The ATAC-GPU is manufactured with mil-spec and match-grade parts, and Addax Tactical says it is built tough enough for all law enforcement and military applications.
Available options for the ATAC-GPU include Vltor MUR upper receivers, cold hammer forged 16″ barrels, 10.5″ – 16″ mil-spec barrels, compensators, flash suppressors, and a variety of Cerrakote finishes.  Addax offer the uppers in 5.56 (aka .223) and 6.5 Grendel and 6.8 SPC.  Prices start at $875 and go up depending on what options you want.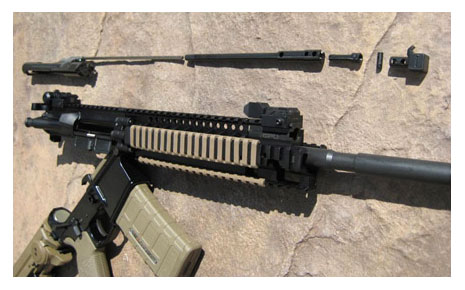 Update: Â This specific system is not currently available from Addax Tactical. Â Other AR-15 piston uppers are available from Addax and other companies. Â A quick Google search can help you find a system that will work for you. Â I do not know if this system will be coming available in the future, or if this is a dead product now. Â If someone has any insight into this piston upper situation, please add to the discussion in the comments section below. Â I know I would like to know more information, and I'm sure other readers would like to hear about it as well. Â Also, if there is anyone who is running one of these uppers now, let us know how you like it.