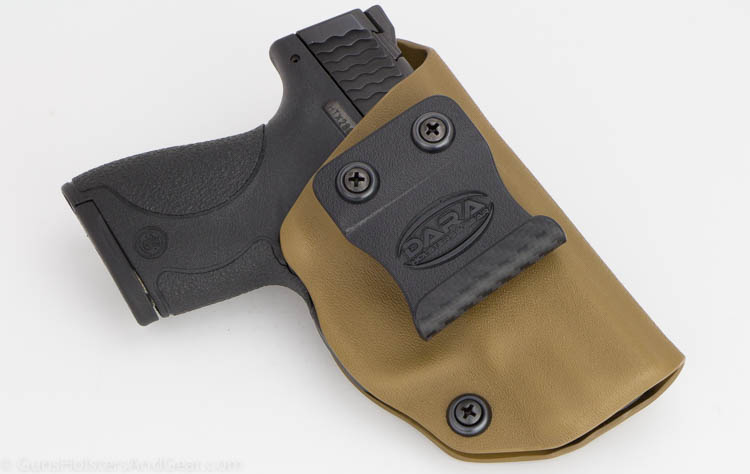 Without a doubt, the Smith & Wesson Shield has become one of the most popular pistols for concealed carry today. Maybe you've bought one already or are considering picking one up. One of the key things you will need to have is a holster.
This page is an exhaustive list of carry rigs for the 9mm and .40 S&W versions of the S&W Shield. If you are looking for a holster for the M&P45 Shield in .45 ACP, please click here.
I've listed everything by manufacturer to try to keep things organized. Under each company, there will be a variety of M&P Shield holsters depending on what that company is currently making.
If you already have an idea of which manufacturer(s) you are interested in, select the corresponding link in the table of contents to your right.
If you are not sure what holster brand might work for you, feel free to scroll down along the page and see what catches your eye. Where I can, I add photos, videos and my own personal experiences to help give you an idea of what the rigs are like.
One question that many people have concerns the differences between the 9mm and .40 S&W versions of the pistol. Do holsters for one work for the other? Yes. If you have a rig for one caliber, a gun chambered in the other caliber will work perfectly. The external dimensions of the guns are identical. The same goes for pistols with and without the thumb safety.
There are significant size differences, however, when the guns are fitted with a laser aiming unit. From the factory, Smith & Wesson offers the Shield with a laser option. Also, there are aftermarket lasers available for these pistols. Some holster makers offer rigs to accommodate lasers, but not all. I will point out which companies offer a laser option.
I own a Shield and will provide as much first hand experience as possible on these holsters. However, there is no way I can test or even just try each one I mention. That's where you, the reader, come in. If you have tried any of these rigs, please leave some feedback in the comments section below. These comments are extremely helpful to other readers who are looking to pick up a new scabbard.
Likewise, if I have missed a holster company, please let me know in the comments section also. I try to keep up, but I will undoubtedly miss some. If you help me out, I can make this the best resource possible for everyone.
Alien Gear Holsters
Alien Gear makes a very comfortable, hybrid inside-the-waistband (IWB) holster for the M&P Shield called the Cloak Tuck 2.0. These rigs use a soft and flexible neoprene backer with a polymer shell. I did a full review on these holsters (click here to read it.) Alien Gear also offers the original Cloak Tuck and the Cloak Slide for the Shield. The Cloak Slide is an outside-the-waistband (OWB), open-top rig.
Bianchi
Bianchi is an old-school leather holster company that has been around for decades. I've used their stuff for nearly 30 years and have always found it to be of high quality. They offer several rigs for the Shield.
The Bianchi 100 Professional is an IWB holster for the M&P Shield. It is made of tanned leather and uses a metal clip to attach to the belt. It has a tall sweat guard to keep the gun from rubbing into your shin while being carried.
A variation of the above holster is the Bianchi 100T Professional. As you might guess, the T stands for tuckable. This holster moves the belt clip to the side of the gun to reduce the overall thickness of the package and uses a c-clip to allow the wearer to completely cover the gun with a tucked-in shirt.
A more modern design, the Bianchi 135 Suppression is a full grain leather rig that uses a synthetic core for additional stability. It has the general look and feel of a hybrid holster with all of the classic styling of leather. The rig uses c-clips that allow for a shirt to be tucked in over the gun.
For an OWB rig with a security feature, give the Bianchi 82 Carrylok a look. This OWB holster for the M&P Shield is an open-top rig with a finger release lever that has to be disengaged to draw the gun. For anyone who practices open carry, a retention device should be considered a mandatory feature. These are available in both brown and black.
Blackhawk
Tactical gear powerhouse Blackhawk makes a range of carry rigs for the S&W Shield handguns. One of the holsters most associated with the company is the SERPA, and Blackhawk makes a model to fit the Shield. These OWB holsters are made of polymer and use an internal locking device to secure the gun in the rig.
Possibly the best appendix/IWB style holster available for the Shield is the new A.R.C. holster from Blackhawk. These rigs are very comfortable and very inexpensive. The best part? They are made in the USA. Pricing runs about $25 or so.
Blackhawk also makes the Sportster Standard CQC holster for the Shield. These polymer rigs are very similar to the SERPA, but the company deletes the locking system. An adjustable friction system provides the retention.
If you need an M&P Shield ankle holster, consider the offering from Blackhawk. These rigs are made of nylon, and I've found them to be durable and secure. I found they work well over a boot, but are less comfortable on top of a sock only. Of course, your experiences may differ.
If you need a cheap OWB, you might be interested in the nylon Hip Holster. It isn't fancy, but it will do a decent job of allowing you to carry the Shield when more expensive options are not feasible.
For something a little different, Blackhawk offers the Day Planner Holster. This concealment device appears to be a regular work organizer at first glance. However, when you unzip it, there is a space for your Shield and spare magazine.
Blade-Tech
Blade-Tech is an extremely well respected brand in the firearms community, and many people really like their products. For the Shield, they offer a number of holster options.
The Nano is an IWB-style holster, and according to the company, it is one of their best sellers. The rig is very thin, which allows for better comfort and ease of concealment. The holster attaches to your belt with a pair of soft straps. These straps can be adjusted for different belt widths and for the cant of the gun.
If you like IWB, but would prefer an appendix holster for your M&P Shield, Blade-Tech offers the Klipt. The Klipt is another popular choice from Blade-Tech. It offers the ability to slip it on and off with ease, while still keeping the gun secure while you wear it. It is also very affordable.
For an OWB rig, Blade-Tech offers the Eclipse. This is a pancake style holster that gives a solid click when the gun is secured in it. The holster is constructed in such a way that is fits snug to the body to reduce the possibility of printing (being seen.)
Bravo Concealment
Four different carry rigs are offered by Bravo Concealment for the Shield pistol. Two are inside-the-waistband models. The remaining pair are both outside-the-waistband carry rigs that can be converted to inside the waistband carry. All of the holsters are made of Kydex, and the company offers a variety of options to cover whatever your requirements may be. They even make a rig that is suede lined for increased comfort when carried. (Ed. note – I reviewed the ACER IWB rig with the suede lining here. However, it has recently been discontinued.)
Blue Line Concealment
Blue Line Concealment builds Kydex holsters for a wide range of handguns including the Shield. The company offers a Sport OWB that uses a paddle to secure it to your pants. They also offer an IWB holster that comes with your choice of soft loops, a hard loop or a clip to attach the holster to your belt.
Celtic Holsters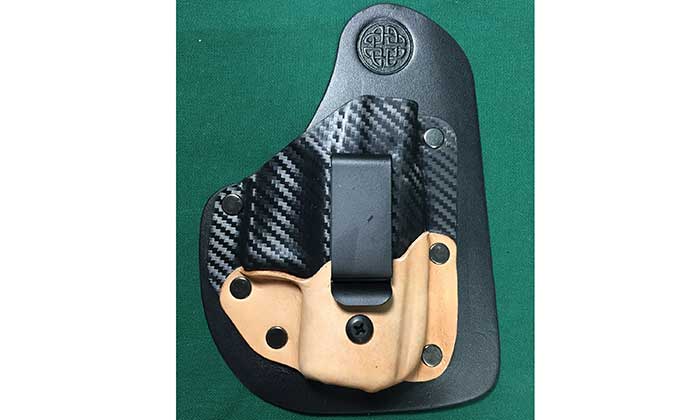 Celtic Holsters offers an inside-the-waistband rig for the Shield called the Wee Celtic. This hybrid-style holster uses a cowhide leather backer with a Kydex shell. A spring clip holds the holster in place on the belt. Celtic Holsters offers a number of options on these rigs including Kydex shell colors.
One interesting feature about the Wee Celtic is that is has leather on part of the front of the Kydex shell. According to the company owner, "the leather on the front holds the clip in place so the screw does not compromise the kydex and helps allow you to adjust the cant." The MSRP is $55.
CNC Holsters
If you are looking for a Kydex concealment holster, CNC Holsters makes five different rigs that fit the Shield. One of the nice things about the different models is that they are named after military jets: Harrier, Raptor, etc. The company offers both IWB and OWB rigs.
Comp-Tac
Comp-Tac is another well-respected polymer holster maker in the industry. The company offers a number of rigs for this pistol. Although I've never had to use it, I've heard that their customer service is top notch.
One of their more famous designs is the Infidel IWB holster. This Kydex rig is designed to be carried behind the hip, and it conceals very well in this position. It uses a clip to attach to the belt, and that means the holster is easy to put on and take off. Right- and left-handed versions are available.
For a more comfortable IWB, Comp-Tac makes the Infidel Ultra. This one is adds a leather backer to the Infidel to increase the comfort of wearing a gun for long periods of time. From what I hear, it is an exceptional rig.
A third IWB option from Comp-Tac is the Minotaur MTAC. This rig uses a wide leather backer to help spread the weight of the pistol to increase comfort even beyond that of the Infidel Ultra.
If you are using a laser on your M&P Shield, you will want to take a look at the Comp-Tac MERC holsters. These IWB rigs have a leather backing for comfort and are designed so a shirt can be tucked in over the gun. If you have a Crimson Trace Laserguard LG489 or a LaserMax CenterFire laser, you are covered with these rigs.
The Flatline is a simple Kydex OWB holster for the Smith & Wesson Shield. It is contoured to hug tight to the body and can be adjusted for retention, cant and ride height. Right- and left-handed options are also available.
A good M&P Shield paddle holster is the straight drop Paddle Holster. This holster slides on easy, yet stays secure all day on your belt. It is an open top rig that offers a very fast draw. For the competitors out there, Comp-Tac states it is IDPA and USPSA legal.
Cook's Holsters
Cook's Holsters is a family-owned Georgia company that makes a variety of Kydex rigs for the Shield. Among them are a paddle, IWB, OWB, boot and appendix holster. The company is also set up to make carry rigs for the Shield pistol equipped with a Crimson Trace, LaserMax or LaserLyte aiming laser.
CrossBreed Holsters
CrossBreed Holsters offers a variety of S&W Shield holsters, including their famous hybrid rigs like the SuperTuck. This is a Kydex shell mounted on a leather backer that many people claim is extremely comfortable to wear for long periods of time even though it is an inside-the-waistband style.
CrossBreed also offers other styles including the Snapslide (OWB), Appendix Carry and the Medium Auto Ankle. All of the holsters made by CrossBreed can be had for the Shield alone, or with a Crimson Trace or LaserMax laser attached.
Dale Fricke Holsters
Dale Fricke Holsters is a well-respected name in the shooting community. The rigs are generally considered to be some of the better Kydex products being made. Of course, the prices tend to reflect that reputation. Don't be surprised to see prices around the century mark on many of the standard rigs.
The company offers a large number of holsters for the Shield. These include appendix carry, regular IWB and OWB designs. Rather than try to list them all, visit the company's site and take a look at what they have to offer.
Dara Holsters
I've been a fan of Dara Holsters for a few months now, and the company's IWB holster is my preferred carry rig for my own Shield. I've got two – one of their IWB rigs and one of the OWB. Both are made of Kydex and have proved to be both durable and comfortable with the Shield. The real bonus is the company's holsters are reasonably priced.
DeSantis
DeSantis offers a large number of holster options for the M&P Shield. Let's run through them here…
M&P Shield IWB Holsters
DeSantis offers quite a few IWB rigs. First up is the Cozy Partner. This is a leather IWB rig that can be had in either black or tan. It is also available for both right- and left-handed shooters. It attaches to the belt with a pair of leather snap loops.
The Inside Heat is a leather holster that has a straight cant and uses a metal clip to attach to the belt. It is easy to take off and put on. It is available in black only, but is very inexpensive.
DeSantis also offers the Sof-Tuck for these pistols. The Sof-Tuck is a tuckable IWB rig that allows you to conceal carry without the need for a jacket or other typical cover garment. The holster has a tan finish and a black clip to hold it in place.
Another tuckable concealment rig is the Intruder holster. The Intruder is a hybrid design, using a Kydex shell with a leather backer. The leather is coated in polyurethane for protection, and the belt clips are space wide apart for comfort. Here is a video of the Intruder holster:
If you are looking for a breathable, more comfortable version of the Intruder, DeSantis also offers the Invader. The Invader is a hybrid-type holster that replaces the leather backer with a neoprene and nylon backer. This backer is just as durable as leather, and some people believe it is significantly more comfortable.
If you are looking for a single holster to handle both IWB and OWB duties, the Dual Carry II might be a good choice. It is a leather rig with belt loops for OWB carry, and it also has an adjustable C-clip for IWB duties. It is even tuckable when carried inside-the-waistband. This rig has a thumb strap for gun retention.
M&P Shield Ankle Holsters
Ankle holsters are always a bit of a compromise, but they can be invaluable for a backup gun or when other forms of carry are not feasible. DeSantis offers two options in this category.
The first is the Apache ankle holster. Made from mostly synthetic materials, the holster has a nylon "pouch" for the pistol and a wide elastic band that secures it to the leg. The band is backed by sheepskin, which gives the user a soft cushion between the rig and his or her leg.
The Die Hard ankle holster is the second option for this mode of carry. This rig uses a quality leather to hold the pistol, while a sheepskin-backed neoprene band holds the gun to the leg. DeSantis uses a polyurethane coating on the leather to protect it and the gun from water, dirt and mud that may splash up from walking outside.
M&P Shield Pocket Holsters
Possibly the most popular pocket holster of all time is the DeSantis Nemesis. This synthetic rig does a great job of holding a gun in place inside a pocket while still protecting the pistol. I've got several for all of my CCW guns, and I highly recommend them. In fact, I even reviewed the holster here.
A stickier alternative to the Nemesis is the SuperFly pocket holster. This rig is very similar to the Nemesis, but it has a rubber-like exterior that does a superb job of ensuring the holster stays in the pocket when the gun is drawn. I personally like the Nemesis better – it is thinner, cheaper and does a very good job. However, I still like the SuperFly and understand why others would prefer it.
M&P Shield OWB Holsters
DeSantis offers a range of outside-the-waistband rigs for the Shield. One of the most traditional models is the Thumb Break Scabbard. These leather holsters are belt slide designs that use a top strap with a thumb snap to secure the gun in place. The rigs also have a tension device that helps retain the gun. These rigs are available in both a beautiful tanned version and a rich black model.
If you like the look and ride of the Thumb Break Scabbard, but don't want the retention strap, give the Speed Scabbard a look. This leather rig is very similar to the prior holster, but is an open top design. It still has the tension device to retain the gun in the rig, but is not slowed down by a thumb snap. It is also available in both black and tan.
The Mini Scabbard retains the quality features of the prior DeSantis OWB holsters, but takes a minimalist approach. Instead of a wide area over which the gun's weight is spread, it is carried on a smaller area of the belt. It is an open-top design with internal tension retaining the gun in the holster.
DeSantis also offers the Mini Scabbard for the Shield equipped with the Crimson Trace laser and a version for pistols equipped with the LaserMax laser.
A low cost alternative to the high-quality leather rigs is The Intimidator. This is a hybrid OWB holster that uses a leather slab with a Kydex mold to hold the pistol. It has three belt slots to allow the shooter to adjust the cant of the pistol when carried.
The least expensive DeSantis OWB holster is the E-Gat Slide. This is a basic leather OWB holster with a straight cant. DeSantis markets it as both a strong side and cross draw holster. I've not had one, but it does seem to get very good reviews at Amazon.
M&P Shield Shoulder Holsters
Shoulder holsters hold a special place in the hearts of many shooters, From James Bond to Sonny Crocket, shoulder holsters have been portrayed as cool in the entertainment industry. While I think their practical use is a bit limited, I still appreciate a good shoulder rig.
The DeSantis CEO shoulder holster is a single side rig made of leather and precisely fitted for the pistol. On the opposite side of the holster is a nylon and elastic strap to hook to the belt to balance and support the pistol. DeSantis states that the cut of this rig is very comfortable for women, but I have noway of confirming that. Black and tan versions are both available.
Another option is the DeSantis New York Undercover. It is also made of top-grain leather and fitted for the Shield. DeSantis states that this rig is based on the CEO model above, but I am unable to determine any difference between the two.
Detroit Holsters
Detroit Holsters offers a selection of made in the USA rigs for the Shield pistol. These include:
8 Mile – This is an IWB Kydex rig designed for carry behind the strong side hip.
Metro – Another Kydex rig, this one converts allowing the shooter to carry IWB or OWB.
Hastings – An OWB holster made of Kydex. It can attach to your belt via a clip or paddle.
John R – This is a Kydex pocket holster.
Gratiot – An IWB holster, this rig is a hybrid model with a Kydex shell and leather backer.
Woodward – This is another style of hybrid IWB holster.
Jefferson – An OWB rig, this holster uses a leather backer with a Kydex shell for a blend of comfort and durability.
Dix – Not really a holster, this is a Kydex trigger guard that can be used when an actual holster is not available.
Flashbang
The Flashbang Holsters company got its start by designing holsters specially for women. The company expanded its original offerings and how has an entire line for women and another for men. I'll follow the company's lead and break them down by gender.
Shield Holsters for Women
The original Flashbang holster, this rig attaches to the underside of a bra and does an exceptional job of concealing the Shield. The gun is carried horizontally and has a snap to secure it into place.
A variation of the Flashbang idea is the Marilyn. The Marilyn holster attaches to the side of a bra and is normally accessed through the neckline of the shirt or dress. This works perfectly for women wearing fashions that would not allow access to the firearm with the original Flashbang.
One of the problems that many women seem to have is a lack of belts with the fashions they wear. The Betty is an IWB holster with a clip that does not need a belt to work properly. While it can work with a belt, the clip has an adjustable tension that allows it to latch onto a skirt, pant or shorts without a belt.
For a more traditional rig that has been redesigned for women, consider the Ava holster. The Ava is a hybrid model with a suede lined leather backer and a Kydex shell for the Shield. Adjustable belt clips are located at both ends of the rig, and they are adjustable to one of five different positions.
Another tradition design that has been reimagined for women is the Sophia OWB holster. Instead of having an FBI cant, the gun is held in a straight up position that allows for easier draw with shorter torsos.
Shield Holsters for Men
The Eliot Ness is an IWB Kydex holster that can be used in a variety of positions, including being clipped into the top of a boot. I personally think this rig works well in the appendix position.
A leather rig, the Baby Face is an open top, OWB holster that is lightweight and comfortable to carry. Flashbang uses top quality leather in their holsters, and this one is no exception.
A traditional leather holster, the Pretty Boy is an outside-the-waistband rig. The belt loops are designed to give the gun a slight forward cant. A thumb retention strap and snap add security to this model that the Baby Face lacks.
The Capone holster is similar to other IWB hybrid rigs on the market. These use a wide leather back piece with a permanently attached synthetic shell to hold the gun. Belt clips on the ends of the backer attach to the belt and allow the gun to have a shirt to be tucked over it. The clips are also adjustable for height.
Fobus
Fobus makes a paddle holster for the Shield that is made of polymer. The material is not Kydex, but something more akin to an injection molded plastic. That doesn't mean it is not a good holster. I've owned a few Fobus holsters, and I found they held up well during light to moderate use. I'm not sure I would rely on them for law enforcement or military duties, but for concealed carry or range trips, I imagine they will work well for many people.
Fury Carry Solutions
Fury Carry Solutions manufactures Kydex concealment holsters that are precisely fitted for the Shield pistol. The styles the company currently offers are:
Concealment Series – OWB, full sweat guard, 20° forward cant
Competition Series – OWB, partial sweat guard, no cant
Professional Series – OWB, partial sweat guard, 20° forward cant, adjustable tension
Tactical Series – OWB, no sweat guard, no cant, MOLLE attachments
Appendix Series – IWB designed for appendix carry, full rear sweat guard, partial front sweat guard
Galco Gunleather
Galco Gunleather is one of the more prolific makers of holsters today. The company has been making carry rigs for decades. I've owned a number of their products and have found them to be well made. My Galco rigs have always looked good and were very reliable.
Since there are so many different holsters made by the company, I will break them down into smaller groups.
Inside-the-Waistband
The KingTuk is a tuckable, IWB rig. It is a hybrid design with a smooth leather backer and a polymer shell to hold the gun. This video from Galco shows more about this design:
For a holster that is more traditional in design, but still allows you to tuck a shirt over it, Galco makes the Tuck-N-Go. This holster is made of leather and has a J-hook that allows for a shirt to cover the pistol for maximum concealability.
A less expensive alternative for IWB carry is the Galco Stow-N-Go. These carry holsters are simple with unfinished leather and a clip to quickly fasten to a belt. As the name suggests, they are great for being able to quickly slip on if you need to run up to the store or to carry the trash out.
Outside-the-Waistband
If you want to keep things simple but stylish, Galco might have the perfect leather holster for you: the Stinger. These strong side carry rigs are an open top design and use a tight belt loop to keep the overall package small.
For those of you who like paddle holsters, Galco makes the Paddle Lite. This leather holster has a large paddle with a patented "belt-lock" design that allows for very good security while still being easy to put on and take off. The holster has a retention strap with thumb break.
Purses & Handbags
Galco Gunleather makes a line of handbags designed to carry defensive pistols like the Smith & Wesson Shield. Here are a few:
Other Carry Options
A completely unconventional carry system is the Underwraps Belly Band. This rig is a wide strap of elastic-like material that can hold your pistol, spare magazines and additional gear. It can be worn above, below or at the waistline depending on your concealment needs.
Hiding in plain sight is sometimes the easiest method. If you are ok with off-body carry the Defense Planner might be of interest to you. This holster looks like a day planner or other organizer. But instead, it holds your Shield pistol and a spare magazine.
Another option is the Galco iDefense. The iDefense is a tablet carrier with a concealed compartment for carrying a pistol and spare magazine. Tablets like the iPad, Nexus 7 and Kindle Fire will all fit in this carrier. More details on the iDefense are in this video:
Garrett Industries
Texas-based Garrett Industries offer a variety of carry options for the S&W Shield. The company also makes the holsters for the Shield with an attached Crimson Trace Laserguard. One of the things that sets Garrett Industries apart from other Kydex holster makers is that they line their rigs with leather to provide a quiet and soft lining between the hard plastic and gun.
Gladius Holsters
I've had a chance to interact with the owner of Gladius Holsters, and he struck me as being very serious about making quality carry rigs. At a time when it seems anyone with a hairdryer is making Kydex holsters, it is nice to find someone who takes his craft seriously.
Gladius offers a OWB pancake Kydex rig and a IWB Kydex rig. Additionally the company makes an exceptionally intriguing vest holster for attaching to a police officer's body armor. These look solid and might just revolutionize that aspect of carry.
JM Custom Kydex
As the company name suggests, JM Custom Kydex builds Kydex holsters for concealed carry. They offer a variety of IWB and OWB options, and can make the rigs in a variety of colors. Right- and left-hand holsters are available, as are many other options. At the time of this writing, it looks like delivery time is 8+ weeks. So keep that in mind when ordering from them or anyone else.
Milt Sparks
Milt Sparks is a leather holster maker with a long history of making high quality carry rigs. I've got a Milt Sparks Summer Special 2 for the Glock 19 that I absolutely love. Without reservation, I recommend this company's gear. However, they have a long wait time for most holsters. Three or more months is not unheard of.
Milt Sparks currently makes six different IWB, eight different OWB and three different pocket holsters. There is bound to be one that would meet your needs.
MTO Holster
MTO Holster makes a hybrid concealed carry holster for the Shield that uses a leather backing and a Kydex shell. The rig uses J hooks to secure the holster to the belt. It is open top and rides inside the waistband. This holster is tuckable, meaning you can tuck a shirt in over the gun and not need a jacket to conceal it.
MSR Kydex
Kydex is in the name and Kydex is what they offer. Two different concealed carry rigs are available from MSR Kydex: an OWB and an IWB. The pricing starts at $45 and can go up depending on your model and options. (Update: As of Fall 2018, the company's website is down. It is unknown if the company is still in business or not. If you have any information, please share in the comments section below. Thanks.)
Multi Holsters
Multi Holsters makes a Kydex IWB rig that looks to be a good quality holster. These holsters use a belt clip that is adjustable for cant. The rig has a full length sweat shield to protect your skin and the gun's finish. Right-hand and left-hand models are both available. Each can be had with a carbon fiber finish or plain black.
Nightingale Leather
I've never had a chance to see any of this company's products in person, but from the photos on their website, the work looks amazing. Nightingale Leather makes a range of holsters that will fit both the Shield and the Shield with an attached Crimson Trace Laserguard. Holster options include IWB, OWB, pocket carry and a shoulder holster.
On Your Six Designs
This company offers a pair of basic designs for the M&P Shield 9 and 40: an IWB and an OWB. Pricing starts at $30 and does up depending on the model and customized options you are looking for. One of our readers, Cam, advised that On Your Six Designs has fast shipping and great customer service. (Thanks for the feedback Cam!)
OUTBAGS
OUTBAGS is one of the favorite holster makers of my readers. With prices between $26 and $32 for genuine leather carry holsters, it really isn't a surprise to me. With nearly 200 reviews of the Shield holsters on Amazon, the company rates 4.5/5 stars. Very impressive.
OUTBAGS has two basic holsters for the Shield: an IWB and an OWB. All rigs are available for both right-handed and left-handed shooters. The IWB has a belt clip, while the open top OWB has belt loops.
For the IWB with a brown finish, click here. For the same rig with a black finish, click here. If you want the brown OWB holster, click here. If you want the black version, click here.
Outlaw Holsters
Outlaw Holsters makes a variety of OWB carry rigs. These holsters are made of Kydex and come with a variety of finishes. I know very little about the company, but they do seem to have a good amount of positive feedback from customers.
Per-Sec Systems
Per-Sec Systems offers OWB and IWB Kydex holsters for the Smith & Wesson pistol. Holsters can be made in a variety of colors, and things like cant and sweat guards can be customized. I don't have any experience with this company, so if you have any feedback on them please post it in the comments section.
PJ Holster
PJ Holster specialized in making carry rigs for smaller guns including the S&W Shield. The company offers different colors and finishes, clip styles, cant and belt widths.
Raven Concealment Systems
Raven Concealment Systems is popular with many in the concealed carry and shooting worlds. As you might expect, they offer a variety of holsters for the Shield.
Update: It appears Raven Concealment Systems eliminated some of its offerings for the Shield. Currently, it appears that the Morrigan IWB is the only rig remaining for the 9mm and .40 S&W versions of the pistol. I could not find any offerings from Raven for the .45 ACP.
Thanks to Paul P. for dropping me a note about this.
Remora
Remora makes a number of inexpensive holster products for the Shield. The most popular is likely the IWB sleeve that does not actually attach to the belt or pants. Instead it relies on friction to hold the gun and holster in place. The company also makes OWB, ankle holsters and other products that will help carry a pistol.
RKBA
I like RKBA holsters. The company makes good quality leather carry rigs for an affordable price. I've bought four different holsters from them at this point, including on of their pocket holsters and the tuckable IWB rig. The company offers a variety of models and styles for the M&P Shield. Without hesitation, I recommend RKBA holsters for any of your carry needs.
Safariland
Safariland is very well known in the law enforcement community for providing top-notch holsters and gear for police officers. However, the company also builds great competition rigs for professional shooters and some amazing CCW holsters for armed citizens. Here are a few of the current options.
For an OWB holster, the Pro-Fit model 578 holster is a very good choice. These holsters can quickly adapt to any of nearly 200 different handguns including the M&P Shield. Read my review of the holster here. These holsters are equipped with both a paddle and belt loops for both styles of carry.
Another OWB belt loop holster is the model 6377. This is an open top rig that uses the popular Safariland ALS (automatic locking system) to secure the pistol in place. The interior of the holster is suede lined to protect the gun's finish.
A third option for OWB carry is the model 5379. It is also an open-top design, but this model uses the GLS (grip lock system) to secure the firearm. This is the same system used in the Pro-Fit 578 above. As you grasp the Shield to draw, your gripping fingers – not your trigger finger – deactivates the GLS system. Once deactivated, the GLS allows the pistol be drawn normally.
Yet another OWB for the Smith & Wesson Shield is the model 5198. This is a paddle holster without any retention strap that was designed for competition. It is IDPA legal.
SHTF Gear
The folks at SHTF Gear make their ACE-1 (Always Combat Effective) concealed carry holster for the Shield. These holsters use a hybrid design that attaches a Kydex shell onto a leather slab. The Slab is wider that necessary to move the belt clips out farther with the intent to better distribute the weight of the gun. The company uses brass rivets and Kevlar stitching. The company also makes the holster available for the Shield with a Crimson Trace laser attached and another version for the Shield with a LaserMax CenterFire attached.
SpetzGear Tactical Systems
SpetzGear makes Kydex IWB and OWB holsters for the Shield. I've never done business with the company, so I cannot vouch for the rigs or the service. However, they look similar to some of the other Kydex rigs on the market, so I expect they would do fine. Once note about ordering from them: the Shield is listed under M&P in the drop down menu – not S&W or Smith & Wesson.
Statureman Custom Holsters
This is another company I've heard good things about from readers. Statureman Custom Holsters offers a variety of Kydex rigs incuding a pair of appendix IWB rigs, an IWB clip holster, and several OWB belt holsters. These holsters can be customized for the size of your belt, what kind of cant you would like and finish.
Stealth Gear USA
Like Alien Gear, Stealth Gear USA uses a non-leather backer in a hybrid IWB design to improve comfort for the carrier. I've got one of the Onyx IWB rigs and I think it is very comfortable. The backing breathes and is padded.
Sticky Holsters
Sticky Holsters makes some interesting rigs that work without any clips or loops. Essentially, these are sleeves for the gun that are sticky on the outside so they will stay in place when carried as an IWB or pocket holster. The Size MD-2 (here) is the proper fit for the Shield without a laser. If you have a laser attached (see the next paragraph below) the MD-4 is the proper fit for your Shield.
Note: I received an e-mail from Daniel who stated that the MD-4 is not the correct fit for the Shield with a Crimson Trace laser attached. He said that the trigger is fully exposed with this model. I went back and checked with Sticky Holsters. The company now states that this fit is good for pistols only with "rail mounted lasers." As the Shield does not have a rail, this doesn't make any sense.
At this time, I recommend against buying a Sticky Holster for a Shield with a laser.
Tagua Gunleather
Tagua Gunleather is a Brazilian leather company that makes a variety of inexpensive carry options for this gun. I currently own an open-top, belt slide Tagua holster for my SIG P226, and have found it to be good quality at a reasonable price. Here are a few of the Tagua rigs for the Shield:
open-top, belt holster – This is an all leather holster that has a slight forward cant. It does not have a retention strap, instead relying on friction to retain the firearm. With my personally owned Tagua, I find it did a very good job with a heavy P226. I imagine it will do at least as well with the smaller S&W Shield.
paddle holster – Paddle holsters are a very convenient way of carrying OWB. Tagua makes this open-top paddle holster that is available in both brown and black finishes.
minimalist belt slide – This holster is designed to pull in tight to the body for maximum concealment. It has an exposed barrel but covers the trigger guard.
Theis Holsters
Theis Holsters makes a variety of hybrid and all Kydex holsters for the S&W Shield. The IWB pictured above is tuckable and can be had for the gun with or without an attached laser aiming unit. Other holsters that will fit this pistol include the EZ-Clip Holster and the Full Slide Outside OWB Holster.
A special note: Theis is one of the only companies I've found that supports the Viridian Reactor Series of lasers. The Theis holsters fully supports the instant on technology of the Viridian lasers.
Tucker & Byrd
Tucker & Byrd make high quality leather holsters in Texas. For the Shield, they make several different styles that may be of interest. The Full Pancake Belt Holster is an OWB rig that uses hand boned Hermann Oak leather. It has a sweat guard and 12° forward cant.
Possibly the most beautiful ankle holster for the M&P Shield that I have ever seen is the rig from Tucker & Byrd. While many of the ankle holsters I have tried have worked well, this is the only one that I have found to be attractive. Like the Full Pancake above, it uses hand boned Hermann Oak leather.
Tucker & Byrd make an IWB holster that is similar to the Milt Sparks Summer Special-style rig. Instead of soft belt loops, this rig uses a single belt clip that is adjustable for ride height. The company also makes another IWB rig that is wider and uses a pair of clips to hook to the pant belt.
The company also makes magazine pouches for the Shield pistol.
Tulster
The Tulster Profile is an IWB holster that was engineered to be a very concealable appendix IWB rig. The holster ships with a belt clip, but soft belt loops can be ordered instead. The company offers a variety of colors for a small additional charge.
Uncle Mike's
Uncle Mike's has been making affordable synthetic holsters for decades, and they offer several options for the S&W Shield. These include:
ankle holster – I've used this ankle holster for years in police work. It is durable and secure. While I liked strapping it over the top of a duty belt, I found it less comfortable on top of a sock only.
Super Belt Slide – I think the first holster I ever bought was a Super Belt Slide more than 20 years ago. It is durable, works and is reasonably priced. It is not fancy, but it can get the job done in many circumstances.
Tactical Reflex – This is an open top, OWB holster made of a hard plastic (injection molded, not Kydex.) I had one of these for my P226, and it did a credible job. I would probably look to another brand, but for the price it is not bad at all.
Vedder
Vedder Holsters manufacturers several models and variants of holsters for this single stack Smith & Wesson pistol. The ComfortTuck is a hybrid-style IWB rig that allows you to tuck a shirt in over the top of the holster. It can also be had for the Shield with a Crimson Trace laser attached.
The LightTuck is a more traditional-looking IWB rig that also allows for the tucking in of a shirt. Like the ComfortTuck, the LightTuck can be had for the Shield with a CT laser.
If you are looking for an OWB holster, Vedder offers the Quick Draw Hybrid. This uses a Kydex shell on leather slab to make a simple, yet effective, OWB rig.
Vedder offers a 30 day money back guarantee and a lifetime warranty on these holsters.
YetiTac
YetiTac builds Kydex rigs and offers several types for the Shield. These include the:
Minimalist IWB
Teti07 IWB
YetiPro OWB
EDC Paddle OWB
Flex OWB
Quick Claw OWB
TacRig Drop Leg Holster (!)
and several more
YetiTac offers a variety of colors and camo finishes on these holsters. Additionally, most rigs offer a variety of other customization options.
Zlogonje Gunleathers
(Update: This company's website is no longer up. I don't know if they are out of business. If someone knows, please leave a comment, and I will happily update this listing.) This custom leather holster maker in Cleveland offers a number of carry rigs for the Shield. Zlogonje Gunleathers works with some exotic leathers in addition to cowhide. So, you can definitely get a great looking BBQ holster for your Shield in addition to a more pedestrian every day carry rig. (Thanks to Cam on Facebook for pointing them out to me!)