Taurus has moved the Judge line solidly into the "big boom" category with the introduction of the Raging Judge Magnum chambered in .454 Casull.
This six-shot, big bore revolver can fire .454 Casull, .45 Colt and 2.5" and 3" .410 shotshells. Due to the power generated by the Casull cartridge, the cylinder has a double lock.
The Raging Judge Magnum is available with either a three-inch or six-inch barrel. The six-inch barrel has a vented rib and can accommodate a scope mount.

Both versions of the Raging Judge Magnum have a fiber optic front sight and a fixed rear.
This Judge is big and heavy. The three-inch model weighs almost 61 ounces, while the six-inch version weighs more than 72 ounces. Holding a floor sample at the SHOT Show, I was impressed by the revolver's very solid construction.
This is a big jump in the power of the Judge line, and it may prove to be very popular with people living in bear country.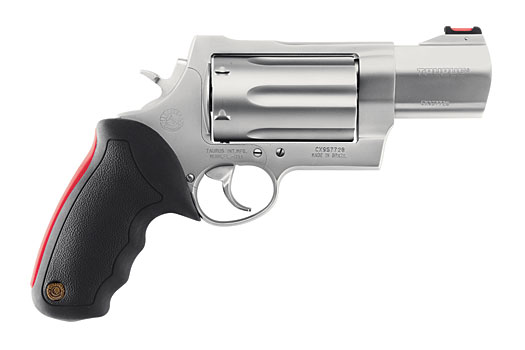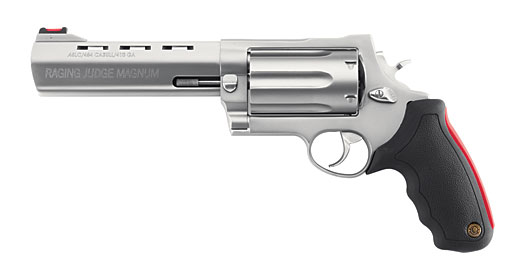 2013 Update
I wanted to give everyone a quick update on the Raging Judge and what Taurus is doing with the line. Â Unlike a lot of new guns introduced at the annual trade shows, these guns are still selling strong. Â Currently, Taurus offers the Raging Judge in a 3″ and 6.5″ model. Â The 3″ model has a matte stainless steel finish and carries a retail price of $1,061. Â The 6.5″ model has a glossy black finish and has a MSRP of $1,012. Â The longer revolver weighs a whopping 73 ounces, which sounds heavy, but probably feels a little light when shooting the .454 Casull rounds.
There was some previous concern about the locking mechanisms on the Taurus Raging Judge. Â The gun has lock points in front and at the back of the cylinder. Â I have talked with a lot of people since these guns were introduced, and I have not heard of any failures in these guns.