Welcome to this year's coverage of the SHOT Show 2018! There is a lot of excitement in the shooting industry due to shifts in the market. There are a lot of new products scheduled for release at – and before – the show. It is my goal to provide you with information on many of these new guns and shooting accessories.
If this is your first time checking out the GunsHolstersAndGear.com coverage of the SHOT Show, make sure you check back often. As new products are released, I will post the information here. Also, I bring you some of the rumors about new firearms that may be seen at the exposition.
The page is divided up into several sections that should be self-explanatory. The confirmed areas contain only firearms that I have confirmed exist. Confirmation may be through the company directly, or through other means that include seeing one for myself. Anything that has not been confirmed goes into the rumors section.
If you will be attending the 2018 SHOT Show, you may wish to peruse the section about attendance. I cover registration information, dates and other critical information you need to attend.
Thanks for taking the time to visit the page and interact in the comments section. It is you guys that make this site possible!
New Handguns – Confirmed
All kinds of new revolvers and pistols are rolled out at the SHOT Show. This year promises to have some significant introductions from companies like Smith & Wesson, Ruger and Glock.
The following are the new guns confirmed to be announced/shown at the expo:
Taurus 1911 Commander
Taurus has a new 1911 for the show. The Commander size gun has a full size grip with an 8 round magazine and a 4.2″ barrel. The finish is matte black with matching grip panels. Novak drift adjustable sights are on top. Taurus 1911 pistols generally get good reviews at their price point, and this one probably will too. It has a suggested retail of only $609.
Draco NAK9
If you've ever wanted a 9mm AK-style pistol that feeds from Glock pattern magazines, Century Arms has the gun for you. For the SHOT Show, the company is introducing the Draco NAK9 is a Romanian made 9mm handgun that has an 11.4″ barrel and weighs about 6.4 pounds unloaded. It is compatible with AKM-pattern handguards and comes with a single 33-round magazine. Any Glock 17 or Glock 19 magazine should work in this gun.
Springfield Armory XD-S Mod.2
Springfield Armory has a new version of the XD-S: the Mod.2. The new guns appear to be the same general shape but not the exact same size as the original pistols. The grip width increased by 0.075″ and the length by 0.2″. The weight, however, remains the same. It will be interesting to see if the old XD-S holsters will fit the new gun. No – it doesn't say "Grip Zone" on the frame. For now, only .45 ACP versions of the gun are shown. I would expect a 9mm announcement later this year.
Remington RP45
Remington's polymer RP9 seemed to be received with apathy by the shooting public. Pre-Christmas bargains on these guns were ridiculously cheap leading some to believe dealers were just trying to clear their inventory of them. However, the demise of the pistol line may be exaggerated as the company is finally releasing the RP45. This pistol was developed in parallel to the RP9 but has not shipped yet. Remington will have it at the SHOT Show. The image above is from the company's new catalog.
SIG P365
SIG SAUER announced the P365, a striker-fired pistol the company calls a "high-capacity micro-compact" handgun in 9mm. In some measurements – width, length and unloaded weight – the gun is a bit smaller than both the Glock 43 and Smith & Wesson Shield. Yet, the gun can hold 10+1 rounds in a flush-fitting, double-stack magazine. An extended magazine add two more rounds. The MSRP is $599. I look forward to handling one of these and seeing how it shoots.
Glock 19X
Glock announced the model 19X – a gun that mates a G17 frame with a G19 slide and barrel. Essentially, you wind up with the decreased sight radius and bullet velocity of the compact gun with the increased difficulty of concealment from the full size frame. But, it does come in the chic coyote color. Plus 2 magazine extensions ship with the gun, so you do get 19+1 rounds of 9mm on tap with a fully loaded pistol.
FN 15 Pistols
FN America is introducing a new series of FN 15 pistols at the show. Chambered in 5.56 NATO or 300 BLK, these handguns are variants of the company's FN 15 rifles. Additional information can be found on the guns at my FN 15 Pistol article.
Ruger Security-9
The Security-9 is a full-size 9mm pistol designed to be very affordable. It uses 15 round magazines that are compatible with the Ruger SR9 line of handguns. It is a hammer fired with a Secure Action trigger system similar to that of the LCP II. I found the LCP II pull to be very light and crisp, so this $379 (MSRP) pistol may have a very nice trigger indeed.
Ruger EC9s
Announced prior to the show, the new Ruger EC9s is a more affordable variant of the LC9s pistol. The suggested retail is less than $300 on this one.
Springfield Armory Operator 10mm
Springfield Armory has a pair of 10mm pistols to show off this year. Both are the company's TRP Operator 1911-style pistols. One has a 5″ barrel, and the other has a 6″ tube. Both feed from 8-round magazines.
FMK Elite Pro
This new 9mm will be on display in January. It has a threaded barrel and a slide cut for the direct addition of a red dot optic. The Trijicon RMR, Vortex Viper and Vortex Venom mount directly without the need for an adaptor plate. The gun has a new grip texture, beveled magazine well and a redesigned slide stop. The suggested retail price will be $679.95.
Timberwolf Large Frame
Lone Wolf Distributors will show a new Glock compatible frame at the show. The new frame is compatible with the 10mm and .45 ACP pistols. It includes:
ability to work with Gen3 and Gen4 slides
higher grip angle than the OEM Glock
two different grip lengths
two sizes of swappable backstraps
accessory rail
various grip texture options
CZ Scorpion EVO 3 S1 with Folding Brace
CZ-USA will have its new Scorpion EVO 3 S1 with a folding brace on hand. The pistol offers a factory arm brace option that many people have been wanting. The 9mm pistol has a flash can muzzle device that can be removed to add a suppressor. This pistol carries a suggested retail price of $999.
CZ P-10C in Urban Gray with Threaded Barrel
This is not earth shaking, but the new Urban Gray color does offer shooters an option when buying the P-10C with a threaded barrel. The MSRP is $559.
Kimber 1911 Style Pistols
It should not be a surprise to many Kimber fans, the company is rolling out a lot of new 1911-style pistols in 2018. The company recently announced what some of the new guns are that will be on display at the SHOT Show. These will include:
five new Aegis Elite pistols including several that have red dot style optics
five new KHX pistols including several that are "optics ready" for adding a red dot sight
Stainless Target Long Slide in 10mm and .45 ACP (6″ barrel $1,055-$1,075)
Kimber Hero
Kimber Mfg is working with the Boot Campaign to offer this pistol in 2018. The 1911-style pistol is a Kimber Custom with custom engraving, a matte black slide and parts, FDE frame and Kryptek Highlander grip panels. It will be chambered in .45 ACP. The suggested retail price of this gun will be $987.
Additional Kimber K6S Revolvers
Kimber will show three new K6S revolvers at the show. These will be the CDP, the DC and the Stainless 3″. While the first two are very attractive, the new Stainless model with the 3″ barrel is the most interesting to me. An extra inch of barrel length can give the .357 Magnum (and .38 Special) significant velocity gains while also lengthening the sight radius. This could make for a great CCW gun.
New Rifles & Shotguns – Confirmed
Long guns of all types are shown off at the annual exposition. While the AR platform has taken center stage the last several years, there will be many new guns offered at this year's show that take the market in both new and traditional directions.
The following are the new rifles and shotguns that are confirmed to be announced/shown at the event:
Franklin Armory Reformation
The pre-show hype on this one is interesting. Prior to the show, Franklin Armory announced that the Reformation, an AR-style gun, has an 11.5″ barrel and a Magpul SL shoulder stock. Normally, this would make it a short barrel rifle requiring a BATFE tax stamp per the National Firearms Act (NFA). However, the company specifically states that this firearm does not need a tax stamp. While Franklin Armory has not spilled the beans on how they have pulled this off, there is a great deal of speculation about it. No word yet on what it fires. When I know more I will update this page.
Arsenal SLR-107R Variants
At the SHOT Show, Arsenal will show off a pair of new SLR-107R rifle variants. Functionally, these are identical to existing guns. The new rifles will have your choice of Desert Sand colored furniture or OD Green furniture. The new guns carry the same suggested retail price as the existing ones: $879.99.
Weatherby Vanguard First Lite
Weatherby announced a new Vangaurd model for the SHOT Show. This new model uses a synthetic Monte Carlo stock like the one used on its Vanguard Synthetic model. However, this version of the gun has a new camouflage pattern that uses a "proprietary mix of 'crackalature' shapes and colors" that are designed for "macro and micro disruption." The gun comes with a sub-MOA guarantee and can be had in any of eight different calibers.
Seekins Precision HAVAK Pro HP1
Seekins Precision announced a new bolt action rifle that is the first of its tactical line. Called the HAVAK Pro HP1, the gun features the company's HAVAK short action and a 24″ stainless steel match grade barrel. Each gun is hand built and test fired. This rifle is a great way for someone who wants a highly regarded Seekins barreled action is a function platform for a relatively low price. You could buy this and enjoy it until you save up enough money for a high end stock or chassis. The MSRP is $1,995 and it can be had in 6.5 Creedmoor or .308 Win.
Ruger Precision Rimfire
Sturm, Ruger & Co. is showing a .22 LR version of the Ruger Precision Rifle. This gun is set up in a manner very similar to the centerfire version of the rifle. It has an 18″ cold hammer forged target barrel that is threaded for the addition of a suppressor or brake. The guns are bolt action, but they do feed from 10/22 magazines like the BX-15 (included) and BX-25.
Savage Left Handed Rifles
Savage Arms has a number of rifles for which it is now offering left handed variants. These include the Model 10/110 BA Stealth, Model 110 Storm, B17 and B22 rifles. While not an earth shattering announcement, these are welcome additions to the line.
Ruger PC Carbine
A lot of people wanted Ruger to bring the PC9, and those wishes have now come true. The new PC Carbine is a 9mm carbine in a traditional rifle form. Unlike the original PC9, the PC Carbine has a few new twists – like the takedown ability and swapable magazine wells. The takedown feature if obvious is a nice addition, but the magazine well interchangeability surprised me. With the change of a magwell, the gun can change what kind of magazine it feeds from. As it ships, it will come with two wells – one for the SR9/Security-9 magazine and another for the Glock pattern magazine. While I'm not a fan of this gun's looks, I am a fan of everything else about it. I hope it lives up to expectations.
JARD California Compliant PCC
JARD announced it was introducing a California compliant version of the J68 pistol caliber carbine. This gun lacks features like a standard pistol grip to meet the laws of that state. It is a bullpup design and feeds from Glock pattern magazines like the original J68.
FN 15 Tactical Carbine FDE P-LOK
This rifle is an extension of the company's growing line of commercial FN 15 AR-style rifles. This model has a chrome lined barrel, three prong flash hider, mid-length gas system and is finished in flat dark earth. The handguard uses the M-LOK standard for attaching accessories.
Phoenix Weaponry .45-70 Auto
Phoenix Weaponry has an AR-10 type rifle that is set up to run a .45-70 cartridge. The .45-70 Auto is essentially a rebated rim version of the classic .45-70 Govt cartridge that will run on a .308 Win bolt. The company claims the rounds hit sub-MOA through this gun. The .45-70 Govt has always been a great hunting cartridge, and a modern adaptation of the gun could be a huge hit.
AlphaWolf Pistol Caliber Carbine
Lone Wolf Distributors has a new piston driven carbine it will show in January. Called the AlphaWolf Pistol Caliber Carbine, it is a Glock magazine fed gun that can be had in either 9mm or .45 ACP. Read more about it here.
Springfield Armory M1A in 6.5 Creedmoor
6.5 Creedmoor is the current darling of the shooting community. So, I expect to see a lot of rifles chambered for it at the show this year. One of the big pre-show announcements is that Springfield Armory is now offering its M1A line in this caliber. There will be different versions available including one with the standard composite stock and one with a precision adjustable stock in flat dark earth. SA describes these as "true 1,000 yard rifles." Pricing runs from $1,985 – $2,045.
Gorilla Firearms GF-10
The new GF-10 is a lightweight, AR-10 style rifle that is being built by Gorilla Firearms. Gorilla Firearms is a new sister company of PCP Ammunition and Gorilla Ammunition. Although the gun will be chambered in typical calibers like the .308 Win, .260 Rem, .243 Win, 6mm Creedmoor and 6.5 Creedmoor, it will also be offered in the new 6.5 SOCOM cartridge. Details are few on this gun, but I'll have more on it as they become available.
Mauser-15 Rifle
Blue Line Solutions announced it would show the Mauser-15 rifle at the SHOT Show. This rifle is a rimfire gun chambered for the .22 LR cartridge. It is a semi-automatic design with an adjustable (three position) stock and 16.5″ barrel. Folding sights are included with the gun. It will be offered in a tan version (shown) and a black version. The company has not released an MSRP yet.
New Shooting Gear
Looking for a flashlight or love to reload? From holsters to lasers, every kind of accessory in the firearms industry is on display at the SHOT Show.
The following are the shooting accessories that have been confirmed to be announced or shown at the SHOT Show:
Nosler 147 grain 9mm Competition Bullet
Nosler announced it is now moving into production with its 9mm 147 grain Custom Competition handgun bullet. The bullets are supposed to have an "ultra-precise lead alloy core" with a tapered skived jacket. The bullets are designed to be match grade and offer shooters excellent accuracy. I am less impressed by the company's claims that the competition bullet is "ideal for law enforcement or personal protection." Generally, something designed for one purpose is rarely ideal for a second.
GlockStore SS80 80% Frame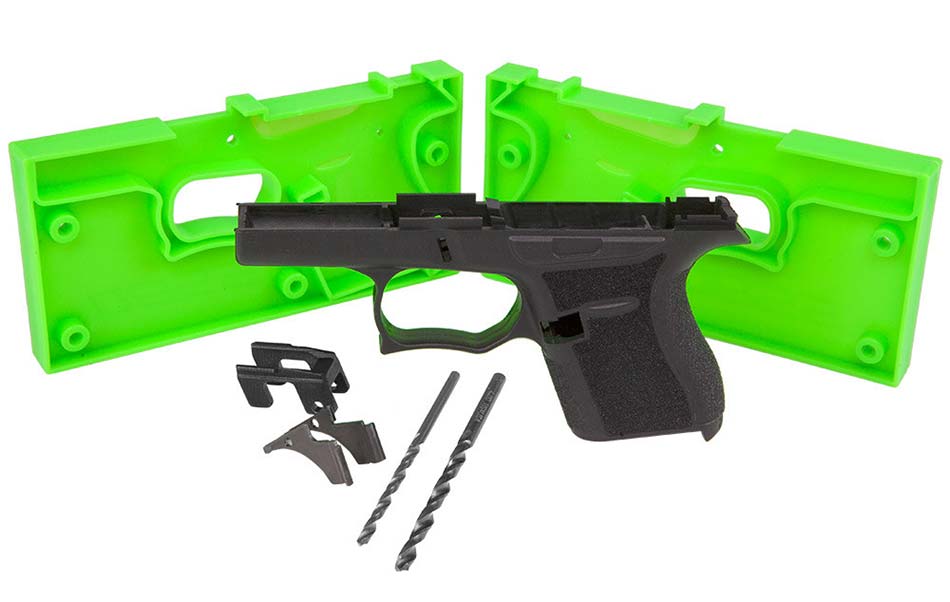 GlockStore announced a new 80% frame that is compatible with the 9mm Glock 43 pistol. Read more about the SS80 G43 frame here. I am really looking forward to building one of these.
Meopta MeoAce
The new Meopta MeoAce is a 3×20 fixed optic with an illuminated reticle designed for both 5.56 NATO and 7.62 NATO cartridges. The reticle has 12 intensity settings to adjust to ambient light. The optic should ship in February, and it will have a suggested retail price of $1,299.99.
Seekins Precision ProComp 10x Stock
Seekins Precision is well known for building high quality, accurate rifles. For 2018, the company has a number of new products including a new composite stock for milspec AR15 and AR10 rifles. Called the ProComp 10x, this stock is designed and manufactured in the United States. It provides an adjustable cheek riser, rubber recoil pad and multiple QD sockets. It weighs a little more than 20 ounces and has a MSRP of $195.
Federal Syntech Action Pistol Ammo
For this year, Federal is expanding its Syntech line to a line of flat nosed bullets for competition shooting. The line has three loads: a 150 grain 9mm, a 205 grain .40 S&W and a 220 grain .45 ACP. These loads are designed with a flat point nose to increase the ability of the round to knock down plates and other targets. Since the Syntech line bullets are encased in a polymer coating, when striking steel targets they are unlikely to expose any lead or copper to the environment. Federal claims these are the "softest-shooting and most reliable [performers] possible for high-volume competitive shooters." The MSRP will run from $19-31 depending on the load.
CCI Mini-Mag Segmented Hollow Point
CCI announced an expansion of its Segmented Hollow Point design for the .22 LR cartridge. The new offering is a Mini-Mag version of the 40 grain load. This is rated at 1,235 fps – up from the existing 40 grain load's 1,050 fps. That represents an increase in energy of 37 ft-lbs to 135 ft-lbs.
I do find it interesting that both CCI and Winchester are offering more fragmenting/segmented bullet loads this year. While two new loads do not make a trend, I do wonder if this is the start of one. Take a look at the new Winchester Hybrid-X if you haven't already.
Speer Gold Dot Rifle Bullets
Speer announced that as of the 2018 SHOT Show, it would sell its Gold Dot rifle bullets as components available to reloaders. In addition to the home brewer, this should mean that third party companies like Black Hills could purchase these bullets and develop new commercial loads with them. The bullets will be available to consumers in 100 count packages. The following calibers will be available: .224, .264, .277, .308 and .310. Several different bullet weights/lengths are available in some of the calibers.
Winchester Deer Season Copper Impact XP
The Deer Season XP line was introduced in 2015 as a top tier hunting round. For this year, Winchester Ammunition is rolling out a lead free version of the round called the Deer Season Copper Impact XP. These hunting loads feature a solid copper bullet with a red polymer tip. In addition to being lead free to accommodate local hunting laws, the rounds are also said to deliver excellent penetration and weight retention. The line will initially cover the following calibers: .243 Win, .270 Win, .30-06 Sprg, .308 Win and .300 Win Mag.
Winchester Super Suppressed Ammunition
Winchester Ammunition announced a new line of ammo designed specifically for use in suppressed firearms. Called Super Suppressed, the new ammunition is all subsonic. It will initially be available in six calibers: 9mm, .45 ACP, .22 LR, .22 WMR, 300 BLK and .308 Win.
Winchester Hybrid-X Ammo
Winchester has a new defensive ammo line called Hybrid-X. It uses a fragmenting lead core with a large polymer tip. Read more about the new ammo here.
Alliant Powder: Improved Red Dot, Improved Green Dot
Alliant Powder has a pair of updated propellants: improved Red Dot and improved Green Dot. These new formulas are said to burn significantly cleaner and improve consistency. They will be sold in 1, 4 and 8 pound containers.
New Lyman Reloading Presses
Lyman Products is rolling out three new reloading presses at the exposition. One is a compact C-style press called the Brass Smith Ideal. This is designed for the new loader and the experienced loader who needs a single stage press that takes up very little bench space. The new Brass Smith Victory is an O-style press that is designed to handle large cartridges in addition to more normal ones. The final new press is the Brass Smith 8-station turret press. It is heavy duty and can handle all of the dies you can muster for precision loading.
Meopta's New MeoMag Magnifier
Meopta USA is now selling a 3x magnifier that is designed to work with all red dot optics on the market. It's not cheap at $999, but it is waterproof to 2 meters for 2 hours and offers multicoated lenses, etc. It can also be used as a monocular and is shaped to fit the hand. The company offers a number of mounts including one that allows you to flip it out of the way when it is not needed.
New Hiperfire Triggers
Hiperfire announced it would release a number of new trigger products at the SHOT Show. Here is a preview video of what is being offered.
ASP Steel Agent Batons
In addition to just firearms and ammo, there are many new law enforcement products that are introduced at the SHOT Show. For example, Armament Systems and Procedures (ASP) has more than 50 new products at the show including these new expandable batons. Called the Steel Agent, these less-lethal tools are designed to be discreet and lightweight for detectives, undercover officers and plain clothes protection/security officers. They are stronger and heavier than the aluminum alternatives, but still much lighter than the duty sized batons.
Remington Golden Saber Black Belt Ammo
I honestly don't know what to say about this. Remington is showing it's "new" Black Belt line of Golden Saber ammunition. This appears to be the same ammo that the company announced in 2013…and 2014…and 2015…and 2016. I don't know if any of this has ever shipped to the commercial market, and no one at Remington has ever had an answer about anything when I've tried to ask them at the SHOT Show. I'll let you know if I find out more.
Remington Premier Expander Sabot Slug
These new loads are designed for deer hunting with Barnes all copper slugs. The loads will be available for both 12- and 20-gauge shotguns in 2 3/4″ and 3″ lengths.
Federal Hydra-Shok Deep
Federal revamped the Hydra-Shok design (which, in my opinion is long overdue) and started a new line called the Hydra-Shok Deep. The new loads are said to perform well in the FBI gelatin testing due to a new bullet design. How they perform "on the street" remains to be seen. Initially, there will be a single 135 grain 9mm load with new loads to roll out later.
ASP Rigid Ultra Cuffs
In addition to impact weapons, ASP is also known for making handcuffs for law enforcement and security. One of the new products introduced for the SHOT Show is the Rigid Ultra Cuffs. These handcuffs are designed for maximum security and control. These would likely be better suited for corrections officers than the average street cop.
CCI 17 HMR VNT
CCI announced a new varmint cartridge for the 17 HMR. This VNT round uses a 17grain, polymer tipped bullet to deliver "explosive terminal performance" on contact with the target. I suspect this will be in the same category of the Barnes Varmint Grenade in terms of on target performance.
ASP Identifier Ultra Cuffs and Training Handcuffs
ASP expanded its line of handcuffs to include more training models and several new versions that are color coded. While the average street officer might want colored handcuffs simply to help identify them when they are "borrowed," a corrections facility could use them to quickly identify detainees that should be segregated due to the nature of the crime, illness or gang affiliation.
Meopta MeoRed T Reflex Sight
Meopta USA announced a new 1×30 red dot that is designed for MSRs. The MeoRed T has a 1.5 MOA dot with 12 intensity settings and is night vision compatible. It is submersible (2 meters for 120 minutes), fogproof and shockproof. It will have a MSRP of $999.
Speer Gold Dot in 10mm
Speer is set to announce the addition of the 10mm cartridge to the Gold Dot line. Gold Dot is the company's line of self-defense and law enforcement ammunition. It is an extremely good performer and one I would carry without hesitation. For 2018, a 200 grain 10mm load will be an option. No word yet on velocity.
Update: Thanks to a reader, I now have the velocity as stated by Speer: 1,100 fps. While that may seem underpowered, it would appear that velocity is optimal for the bullet to expand in a human sized target and penetrate to the appropriate depths.
Streak Visual Ammunition
A new ammunition company called Ammo, Inc. will show a new "cold" tracer round called Streak Visual Ammunition. These new loads use a phosphor base on the bullets to glow as they go down range. This creates a non-flammable tracer-like round. G2 Research tried something a few years back, but it was expensive and never saw commercial success.
Update: The company announced FMJ versions of the ammunition will be available in 9mm, .40 S&W and .45 ACP immediately with hollowpoint versions coming out soon. Additional calibers and colors will also be released in the future.
Streamlight Polytac X Flashlight
This is a rechargeable 600 lumen light that uses 18650 batteries, but can also run on CR123s. It has a polymer body and has a rated runtime of 3.5 hours on high with the 18650. However, the performance curve provided by Streamlight suggests this runtime is mostly at about 50% of the initial output. It is impact and water immersion resistant. No word yet on the suggested retail price.
Polymer80 PF940SC
Polymer80 will show a new sub-compact, Glock compatible 80% frame at the SHOT Show. More information on the Polymer80 PF940SC is here.
Sightmark Element 1x Red Dot Sight
Sightmark announced it would display a new tube style red dot at the SHOT Show in January. Called the Element, this is a 1x 30mm sight that has a relatively small 2 MOA dot and is night vision compatible. This sight is an update to the company's existing Tactical Red Dot Sight and offers several improvements over the older sight. These includes a IP67 dust/water intrusion rating, and improved battery life and a wider range of windage and elevation adjustments.
Trijicon MRO Quick Release Mounts
Trijicon announced it will release several new quick release MRO mounts in 2018. One is a low rise mount while another is a 45˚ offset mount with a quick release lever. These will range in price from $139 to $219. For what it is worth, I wrote a Trijicon MRO review and found the sight to be extremely good.
Seahorse P17 Waterproof Holster
Seahorse Protective Equipment Cases will be showing its P17 Waterproof Holster at the gun show. This is a hard case holster on a drop leg platform that offers a way to keep your pistol dry underwater. It has a pressure equalization system that allows the unit to open even when there has been significant changes in atmospheric pressures (such as after a HALO jump.)
Repelling/Ascending Kit from X Products
X Products announced it will have a new kit at the 2018 SHOT Show that matches the Can Cannon with a high speed ascending kit. This will allow you to throw an emergency line up to 150 yards and lift (or repel) up to 500 pounds at a rate of 15 feet per second. The ascending kit is being provided by Act Safe, and looks to be a variation of that company's Tactical Ascender.
Cerberus Non Lethal Visual Disruption
This is a handgun accessory that mounts to your pistol or rifle   like a typical white light. However, it creates an "over-powering beam of disruption" that is supposed to "steal your target's vision." This technology is based on tech being used by the US Department of Defense. The company offering the Cerberus, Civilian Warfighter, was founded by the co-owner of B.E. Meyers that provides the military with similar technologies.
VISM SPD FlipDot
NcStar is launching a new reflex style rifle sight called the VISM SPD FlipDot. This sight mounts to your gun and allows you to fold the sighting pane down parallel with the rifle bore. When needed, you press a lever and the sight snaps upright and ready for use.
There is a solar panel on the sight that keeps the main battery charged, and it has a backup battery built in. The sight comes with a quick release mount and is backed by a lifetime warranty. This is similar to the FlipDot pistol sight that was announced at the 2017 SHOT Show.
Delta Lite Suppressor
Elite Iron announced it would introduce a new titanium sound suppressor at the SHOT Show. This direct thread suppressor is designed for rifle calibers from .223 Rem through the varied 6.5mm cartridges. It is relatively lightweight at 14 ounces and can provide up to 35 dB of noise attenuation. According to the company, it uses a redesigned back blast section that eliminates the need for timing.
The company states it can be used with semi-automatic and bolt-action guns, but is not designed for full-auto or hard semi-automatic use.
LaserMax GripSense for LCP II
LaserMax will formally introduce the CenterFire light and laser unit with GripSense for the Ruger LCP II. The company announced this line originally for the Smith & Wesson Shield and Ruger LC series. Since then it expanded to include the Glock 42 and Glock 43 pistols. Now the LCP II will get the benefit. No word yet on pricing, but existing models are $179 with a red laser and $199 with a green one.
Midland PPG100 Portable Power Station
Midland Radio announced it would show a new portable power source at the SHOT Show. The PPG100 is a lithium ion rechargeable battery pack that stores 950 Wh of energy. It has both AC and solar DC charging options along with an array of electrical outlets: AC, 12v DC and USB. The unit weighs about 25 pounds, which is significantly lighter than comparable lead acid options on the market. It has a suggested retail of $1,099.
Rumors of New Guns & Gear
Before the show starts, this is one of the most popular destinations on the web. In the past, I have broken stories about new guns from many companies and shared rumors of all things related to the gun industry.
The information in this section is not confirmed and should be taken as pure speculation only. If I have supporting information, I will let you know. Once something is confirmed, it will be shown in the appropriate section above.
Beretta APX RDO, Combat, FDE
I mentioned the possibility of a .45 ACP APX below. However, I'm getting information on three other 9mm guns that are red dot and suppressor ready. More details are here.
New Taurus Revolvers
I've gotten some solid information that Taurus will re-introduce two classic revolvers and add a new 9mm convertible to its catalog at this year's show. Click here to read more about them.
SRM Arms 28 Round Shotgun
SRM Arms already offers 16 round shotguns, but I hear the company may introduce a new model designed for the Aguila mini shotgun shells. It is said to hold 28 shells. Since the company's 1216 model holds 16 12-gauge shells, I would guess that this new model would be the SRM Arms 1228, but that is purely speculative.
Walther PPQ M2 SubCompact
Dropping into the company's lineup between the PPS and full size PPQ is the rumored Walther PPQ Subcompact. This new pistol is said to be available only in 9mm and has a 3.5″ barrel. No additional information is available yet, and it is not confirmed. This gun would fill a hole in the Walther defensive pistol lineup, so it makes sense to me.
Simple Sights
It seems that there is a new set of Glock sights that will be introduced at the SHOT Show. It is called Simple Sights. I don't know much beyond that, but it appears the sights have half-circles on the rear notch that are supposed to align with other half-circles on the front post. I'm assuming the above photo is a prototype only.
Peterson Cartridge Loaded Ammunition
Update: I've been contacted by Peterson Cartridge and informed that the rumor of the company manufacturing ammunition is inaccurate. "We are not nor have we ever considered loading ammunition," said Ben Preston the company marketing manager in an e-mail.  "All we do is make brass that's it."
I regret the error and again caution all readers that the information listed in the rumor section is unconfirmed.
New Defensive Ammunition from Winchester
Winchester Ammunition is supposed to be releasing a new line of defensive ammunition according to a Facebook post made by Rob Pincus. Pincus is a firearms trainer who has done work with Winchester Ammunition in the past, and someone I would consider a reliable source for this information. The photo provided by Pincus showed 9mm +P ammunition loaded in a 50-round tray.
Beretta APX in .45 ACP
I received word from a friend that Beretta has been working on a .45 ACP version of its striker-fired APX pistol. I've not heard this anywhere else, but it would make sense for the company to expand its offerings for this line. So far, the APX seems like a solid platform and the .45 would open it up to more shooters. Chances are a new .45 would not fit the current generation of Beretta APX holsters on the market.
Smith & Wesson Bodyguard 2.0
There is a great deal of speculation regarding the next generation of Bodyguard pistols from Smith & Wesson. The entire M&P line, including the Shield, got a revamp in 2017. The Bodyguard is the one exception. However, Black Friday deals on these guns mirror the extreme markdown of the Shield pistol just before its update. Expect to see a new Bodyguard at the SHOT Show.
Taurus Spectrum 2.0
Taurus announced the Spectrum at the 2017 SHOT Show. However, the company failed to launch it. There are all sorts of rumors about why. However, I have been told there were a number of changes that the engineering team wanted to make prior to shipping. The latest info I have is that the "new" Spectrum will be shown at the 2018 SHOT Show. I suspect we will see it, but if it actually ships is anyone's guess.
Update: The Taurus Spectrum is now shipping.
Remington Discontinuing Significant Product Lines
This is sort of a new gun announcement in reverse. I expect to see Remington announce a reduction in the number of guns offered at the show. Based on a number of reports I've heard about management changes (it hired the former Taurus CEO) and its junk bond status sinking even lower suggests the company is in financial trouble. Remington recently offered rebates that, when combined with retailer discounts, drop the price of some guns below that of Hi-Point. This suggests to me that the company is dumping inventory to try to get some liquidity. Some of these guns, once sold off, may not return to the company catalog in 2018.
New Pistol Light from Streamlight
Streamlight will definitely introduce some new light option for handguns. The only question is what. Above is the ad the company is running as a tease. I've used and reviewed Streamlight flashlights. I hope that this light performs as well as the better lights in the company's lineup.
New Aguila Shotgun Ammo
I've heard from a nearby dealer that Aguila Ammunition will be offering .410 bore and 28 gauge shotshells in 2018. It sounded like there would be a number of loads for each including some 00-buck in the .410 bore. Perhaps that will be marketed as a Taurus Judge round.
Information on Attending the Show
Do you want to attend the show? You're not alone. But getting in is not easy. Even harder is not being overwhelmed once you are in. I've got information and tips for anyone looking to attend the event.
What is the SHOT Show?
The SHOT Show is an annual exposition where manufacturers in the firearms industry meet with retailers and distributors to do business. It is at this event that many new guns and other gear is introduced for the coming year.
The 2018 show will be the 40th annual event. Started by the National Shooting Sports Foundation (NSSF), the event is open to industry members only. This is not a public event. If you are gun enthusiast, the National Rifle Association's show is the best place to be.
SHOT Show Dates
In 2018, the SHOT Show will begin on January 23 and run through January 26. The show floor is accessible earlier for manufacturers that are setting up displays.
A pre-show range event happens on January 22. This is called Industry Day at the Range. This is a smaller event than the SHOT Show, and only a few members of the media are invited to this. Fortunately, GunsHolstersAndGear.com has been invited every year since 2008.
Registration
Advanced registration for the SHOT Show is always recommended. As the show is limited to retailers, distributors and government purchasers, you must show some affiliation with the industry beyond customer. Also, all attendees must be at least 16 years old.
You will need to provide documentation to the NSSF to complete your registration. Simple business cards will not be enough. Instead, you will need to prove that you manage a shooting related business or have a manager in your shooting related business verify you are an employee.
Additional information on registration can be found here.
SHOT Show Security
Unfortunately, there are people who would like to do harm to members of the shooting industry. The NSSF and the Sands Expo Center take security very seriously and provide a great atmosphere for people to conduct business.
In the years past, there has been a significant presence of uniformed and undercover security and law enforcement officers on hand. Security measures include limiting access to the Sands Expo Center, further checking IDs as people enter the show floor and other sensitive areas, the use of canine patrols and extensive use of security cameras.
Due to the number of firearms being handled on the expo floor, the NSSF respectfully requests that attendees not bring ammunition and guns into the show. This is not a Second Amendment issue, rather a safe handling one.
SHOT Show Tips
If this will be your first time attending the SHOT Show, I'd like to offer a few ideas that can make your experience easier.
water – Vegas is in the desert. If you are not used to it, you will dehydrate quickly and not realize it. Even when you are indoors, the humidity is extremely low. Bring a bottle with you onto the floor and refill it in one of the fountains. Otherwise you'll pay big money for a bottle of it in the Sands.
hand sanitizer – Have some with you at all times. There are tens of thousands of people from around the world at the show. You stand a good chance of getting sick if you don't take precautions.
packs, bags, carts – Don't bring a cart. They jam up the flow of people in the aisles. Instead, bring a backpack or shoulder bag if you plan on bringing or picking up samples or papers.
food – Everything is expensive and busy. If possible, bring some food with you. Even if it is just some nuts, fruit or a granola bar, a light snack can help get you through a long afternoon. The food offered on the show floor is marginal. There are some good restaurants in the mall-like area surrounding the Sands, but the lines tend to be long and the prices are not cheap.
hotels – Staying at the Venetian or the Palazzo are the best options when going to the show. Both are very nice hotels and are directly connected to the Sands. However, they are also very expensive. Less nice and slightly less expensive are Treasure Island and Harrahs. Neither of these are great hotels, but they are a short walk away. Of course, walking the strip for any distance is not a pleasant experience in the evening when the show ends. Strip club promoters, drunks and the smell of vomit don't really do it for me.
transportation – If you are going to any off site location for dinner, a meeting or a party, try using Uber or Lyft instead of the local cabs. The local cab services are more expensive and less friendly than any of the alternative ride sharing services I've used in Vegas. Also, I've had multiple cabbies try to run me the long way 'round when coming from the airport.
Photo Gallery
While the show is in progress, I will post general photos here. Photos of specific guns and gear will be seen in the appropriate section above.
Summary
Event
Location
​
Sands Expo Center

,

201 Sands Ave

,

Las Vegas

,

NV

-

89169
Starting on
Ending on
The annual Shooting, Hunting and Outdoors Trade Show is the largest firearms industry exposition and conference in the United States. Many new guns are introduced here.